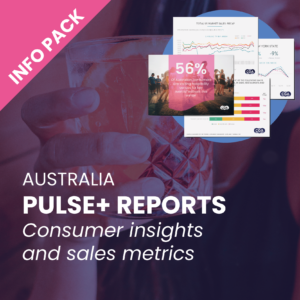 The report findings enable suppliers and operators to optimise sales of pre-mixed spirits, pre-mixed cocktails, alcopops and hard seltzers, at relevant touchpoints, with the most receptive consumer groups.
Overall awareness within the drinks category is high, with over half of consumers being aware of pre-mixed spirits with mixers (66%) and pre-mixed cocktails (56%). In terms of awareness translating to consumption, 37% typically drink pre-mixed spirits with mixers and 28% typically drink pre-mixed cocktails.
Just under half of Australian consumers are aware of alcopops and hard seltzers (47% for both), while 18% typically drink alcopops and 16% typically drink hard seltzers. This differential reflects that although there's relatively high consumer awareness of the different types of mixed drinks available in the On Premise, it doesn't necessarily convert into greater mixed drink consumption.
Knowing the mixed drinks category exists is one thing. But what depth of knowledge do consumers have about the drinks that fall into the category? The report reveals 40% of consumers are knowledgeable or very knowledgeable about the ingredients used in different types of mixed drinks.
To assess how their knowledge translates into sales, consumers were asked 'If you were choosing a mixed drink to have when out in a pub, bar or restaurant, which of the following would you prefer to have?'
65% said a classic mixed drink, such as a margarita cocktail, while 35% said a combined mixed drink, such as a margarita hard seltzer. Their responses indicate that a focus on mixed drink hybrids could be a compelling solution for overcoming lower consumption, by engaging and enticing consumers with existing drink categories and flavours they already know and love, but in different combinations for an appealing contemporary twist.
James Phillips, Client Solutions Director – ANZ said: "In such a dynamic and fragmented category, surprisingly On Premise consumers say they have a good overall knowledge of the mixed drink category. But there is potential confusion around some of the drink types that are categorised as mixed drinks. This presents a compelling window of opportunity for drinks brands and operators to lead the way in optimising awareness and sales, by experimenting with mixed drinks offerings that blur lines and create exciting new concepts, while leaning into familiar favourites."
To learn more about consumer perceptions and interactions with mixed drinks in the On Premise and ask custom questions to a sample of 4,000 Australian On Premise visitors, get in touch with the team about CGA by NIQ's On Premise User Survey (OPUS).
The Pulse+ Reports are now available as part of a new subscription, providing a bigger picture overview of the Australian On Premise and exploring consumer insights. The Pulse+ Reports provide ALL NEW sales metrics as part of the monthly reporting.
To find out more about the Australian On Premise Pulse+ Reports, click here, or download a snapshot of the latest Pulse+ Report here.
Contact james.phillips@nielseniq.com to find out how you can access the full subscription, and more about CGA by NIQ's On Premise solutions to benefit your business.