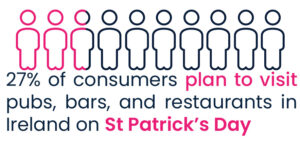 CGA's On Premise User Survey (OPUS) in Ireland indicates that more than a quarter (27%) of consumers plan to visit pubs, bars and restaurants for the celebrations on Thursday 17 March. The research highlights the value of these people to the On Premise, since they spend €18 more than the average consumer on eating and drinking out each month.
OPUS highlights that there are great opportunities to drive sales of premium brands among these consumers. Nearly half (48%) of those planning to go out for St Patrick's Day say they are likely to trade up their drinks choices—three percentage points more than the average consumer.
CGA's research unlocks crucial insights into the demographics, habits and priorities of people heading to pubs, bars and restaurants. They include: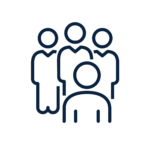 Those celebrating St Patrick's Day over-index for being male and aged 18 to 34—by five percentage in both cases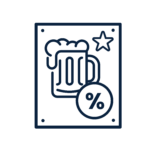 People choosing where to eat and drink out tend to be more influenced than average by drinks promotions (+7pp) and atmosphere and ambience (+7pp)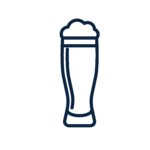 Lager is a very popular drink among celebrants, who are 10 percentage points more likely than the average consumer to choose it.
CGA's On Premise measurement service meanwhile highlights how Stout will be integral to celebrations. In the final quarter of 2021, it accounted for 38% of all beer sales by volume across Ireland and Northern Ireland. This compares to just 8% in Britain—though sales there can also expect a big boost on St Patrick's Day. Irish whiskey, which took 16% of spirits sales in Ireland, will be another popular category.
Sian Brennan, CGA client director, Ireland

"St Patrick's Day always gives a huge lift to Ireland's On Premise, and after two years of missed opportunities because of COVID-19 it will be more welcome than ever this year," says Sian Brennan, CGA's client director, Ireland. "Operators and suppliers that can give consumers what they want have a great chance to recover some lost sales and build momentum for the rest of the year."
CGA's OPUS research and On Premise Measurement service provide the definitive picture of habits and sales in Ireland's On Premise. They provide crucial insights into consumers' engagement with special occasions like St Patrick's Day, and help suppliers and operators understand drinkers' preferences and market dynamics all year round. To learn more, email Sian Brennan at sian.brennan@cgastrategy.com.