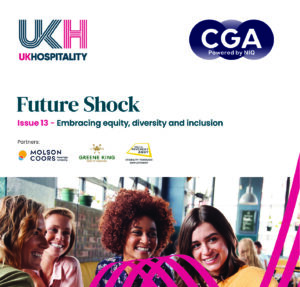 The overwhelming majority of consumers responding to the survey were clear that they felt EDI policies were important to them (64%) but only a third said they see venues advertise their work on EDI and accessibility.
Three in 10 people said they would be more likely to visit a venue if it promoted its EDI policies, demonstrating a significant opportunity for hospitality businesses to showcase their work.
The 13th edition of Future Shock focusses on EDI within hospitality, highlights consumer sentiment towards the topic and brings to life the work happening across the sector, including case studies from Greene King, Molson Coors and Only A Pavement Away.
UKHospitality Chief Executive Kate Nicholls said: "Hospitality has always been a people-first business and has a tradition of being one of the most inclusive sectors in the world."
"I know day-to-day there remains a huge amount taking place to ensure that remains the case and that we continue to enhance our equity, diversity and inclusion credentials."
These new statistics show that this work is clearly valued by the public and is actually a significant factor in where they choose to visit. It's encouraging that customers want to see and understand the work we're doing and is a clear indication to businesses to bring this work to the forefront of their activities.
"Whether it's UKHospitality's EDI committee, the Hospitality Wellbeing and Development Promise, or our guide to recruiting over 50s, there is a huge amount happening in this space for us to shout about."
"I'm delighted to dedicate this latest edition of Future Shock to EDI and showcase the work the sector is doing to be as equitable, diverse and inclusive as possible."
CGA's Director of Hospitality Operators and Food, Karl Chessell said: "By any measure, the first quarter of 2023 has been challenging. Nevertheless, there are some encouraging signs as we look ahead to the rest of 2023. Most importantly of all, CGA's research consistently proves the public's appetite for the special experiences that only hospitality can provide.
While some consumers are being forced to tighten their purse strings at the moment, visitation levels have not yet been significantly affected—and we can be confident they will rise again when people feel more cash in their pockets. Hospitality is a resourceful and resilient industry with a bright long-term future despite the current challenges. It is also a very responsible sector and committed to improvements on big ethical issues like sustainability and diversity.
Download the latest issue of Future Shock here.