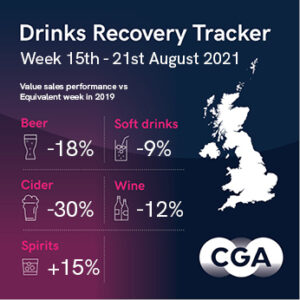 Recent week-on-week performance improvements for average drinks sales in the On Premise stalled in the week ending 21st August, according to CGA's Drinks Recovery Tracker.
Although consumer confidence, some self-imposed outlet restrictions and below-par weather conditions are still in play, the comparison vs the Summer Bank Holiday in 2019 has dealt the most damage, with performance down -11%. Positively though, this result was significantly ahead of equivalent weeks under restrictions, which were down -27% vs the 2019 Spring Bank Holiday and -21% vs the 2019 Early May Bank Holiday.
The week started off with Sunday almost flat at -0%, but Monday and Tuesday dipped to -10%, with Wednesday at -8% and Thursday at -12%. Friday reached a low of -18%, whilst Saturday bounced back to -8%. Both were well behind the recent flat performance we've seen on the most important days of the week but suffer due to direct comparison with big bank holiday occasions in 2019.
All categories except Wine (-12%) took a step backwards from last week, although Spirits continued its healthy double-digit growth at +15% vs the same week in 2019. Beer dropped to -18%, with Soft Drinks finishing on -8%, whilst Cider saw the biggest fall to -30%. This was thanks in part to the Friday and Saturday comparisons vs 2019, where blistering +30 degrees temperatures brought much more success to the category than milder weather this year.
Whilst these figures must be taken with caution due to the comparison vs the bank holiday in 2019, it is positive to see the difference in performance vs the weeks we had with mandatory restrictions" said Jonny Jones, CGA's Managing Director, UK & Ireland. "The trade will now be hoping for a bumper bank holiday this weekend, as the first non-restricted holiday since July 19th, but we'll be hoping that the sun shines to boost it into strong growth."
CGA's Drinks Recovery Tracker service will continue to monitor sales as the drinking-out market continues to recover, providing category, supplier and brand rate of sale performance versus pre-COVID-19 sales. Suppliers and operators that want to track the recovery of drinks sales, benchmark performance or identify changes in trends and consumer preferences should contact jonathan.jones@cgastrategy.com.