Click here to read the blog in Italian/ Clicca qui per leggere il blog in italiano.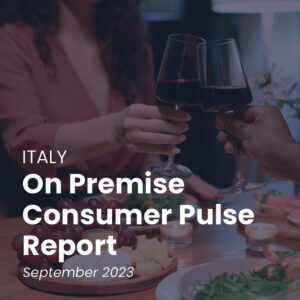 The latest Consumer Pulse survey shows some Italian consumers have reduced their visits to bars and restaurants because of the cost of living crisis. But with well over a third (37%) of 16 to 34 year-olds going out more often than usual—compared to only 25% of those aged 55+—it is clear that younger adults remain eager to visit the On Premise whenever they can. 
The Consumer Pulse research delivers more insights into millennials' behaviour to help suppliers engage them in Italy's bars and restaurants—especially through wine. Well over a third (37%) of millennials say they drink wine every or almost every time they are out—11 percentage points more than the average among all consumers. Just over a fifth (21%) say they are drinking it more often than usual.  
Casual get-togethers and meals remain the top two occasions for drinking wine, but wine-centred events can be a powerful way to reach younger drinkers. More than three quarters (78%) of them say they have visited wine-centred events or plan to do so over the next few months—20 percentage points than the average of 58% among all consumers.  
The Consumer Pulse survey shows wine and food pairing dinners and wine tastings are the two most popular types of events, with 50% and 37% of consumers interested in them respectively. Festivals (25%), vineyard tours (25%) and workshops (11%) are among the other ways to attract wine fans. There are also notable variations in preferences by region, with Lombardy the most popular area for visits, followed by Veneto and Campania.  
By understanding regional preferences and the popularity of wine and food pairing dinners and wine tastings, suppliers and operators will be able to customize their offerings and target their marketing strategies to the more engaged Millennial demographic. Moreover, by optimising pricing strategies and promotions to address the concerns of cost-conscious consumers, the Italian On Premise brands can tailor their approaches to recruit new segments and retain customers effectively. 
Daniela Cardaciotto, CGA by NIQ's senior sales consultant, said: "With spending under pressure, Italy's younger consumers are seeking full value for money and experiences that go beyond a glass of wine. Events are an ideal solution to the challenges of engagement, with great opportunities to encourage trial and build loyalty. In such a tight and competitive market, memorable events can make a significant difference to brands' reputations, and identifying precisely what millennials want from them is the first step to crafting successful strategies."
CGA by NIQ's Consumer Pulse survey delivers many more vital insights into consumers' behaviour in Italy's bars and restaurants. It provides the up-to-the-minute intelligence that all businesses need to thrive in the market, and bespoke analysis is available for even deeper analysis. To learn more, email Daniela Cardaciotto at daniela.cardaciotto@nielseniq.com.