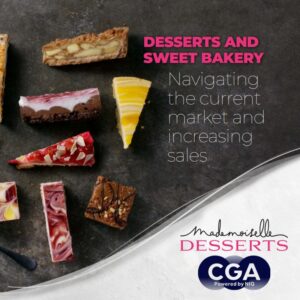 The joint 'Desserts and Sweet Bakery' report reveals fewer than one in five (18%) consumers are cutting down on their number of courses when eating out because of rising household costs. These people are more likely to skip starters than desserts, which indicates many consumers are not willing to miss out on treats. 
Beyond costs, dessert sales have been impacted by the addition of calorie counts to menus, the research shows. A quarter (25%) of consumers say they are consuming desserts less frequently as a consequence of new calorie legislation. 
The double whammy of costs and calories suggests a need for high quality and good value desserts to tempt people to treat themselves. But it is important to remember that value doesn't necessarily mean cheap. Asked about their top associations with value for money, more people chose good quality (41%) than a good deal (39%). 
For venues needing to balance quality and value, mini desserts can be a powerful solution. Nearly a third (30%) of consumers say they would choose these because they are cheaper than a full dessert, and nearly as many would be motivated to buy because it allows them to enjoy more variety (27%) or because they are less filling (21%). The versatility of small-format desserts makes them an attractive alternative to diners across a variety of occasions and venues.  
Andy Hodgson, senior business development manager at CGA by NIQ, said: "Despite their rising bills and growing focus on health, consumers remain eager to enjoy desserts whenever they can. However, they want to get good value for their spend without compromising on quality. In such a demanding and competitive market, mini desserts could provide the sweet spot that businesses and consumers alike will need to hit in 2024." 
To read the 'Desserts and Sweet Bakery' report in full, click here. CGA by NIQ provides much more analysis of desserts and other food courses, channels and occasions in the exclusive Food Insights Report. To learn more, click here and email Andy Hodgson at andrew.hodgson@nielseniq.com.