Click here to view this article in German
Klicken Sie hier, um diesen Blog auf Deutsch anzuzeigen.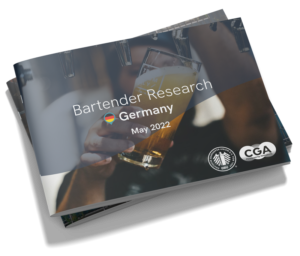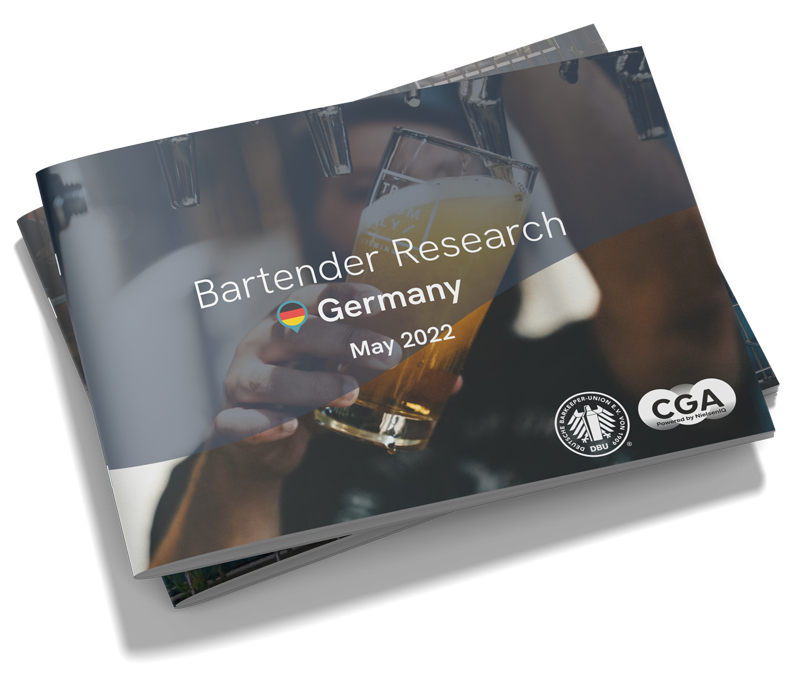 The report, developed in partnership with Deutsche Barkeeper-Union (DBU) highlights how brand owners can protect and grow distribution by engaging bartenders in the quality of brands, as well as their relevance to the latest consumer trends. 
An emphasis on quality 
With more than 80% of bartenders saying that offering guests a great gastronomy experience is very important to them in their role, it is not surprising that bartenders focus on providing consumers with a high offer of quality drinks. When shaping their drinks range, bartenders are looking for brands that are on trend (43%) and that provide an upsell opportunity (38%), whereas lack of demand (76%) is the leading reason a bartender will choose to de-list a product from their bar, followed by poor brand image (66%) and the availability of other better-quality options (54%).    
As bartenders prioritise relationships with suppliers who hold a range of quality products (62%), securing future menu listings and recommendations will require brand owners to engage bartenders in the backstory and features of brands – something well developed training and advocacy programmes can showcase.  
Supplier and brand owner training to engage bartenders 
It is important to note that bartenders will also consider de-listing products due to a lack of supplier support (36%), so providing bar staff and perfect serve training is an effective way to protect listings whilst also forming positive relationships with bartenders. 78% of bartenders see supplier training as important when forming relationships with drinks brands, especially when combined with the presence of excellent brand ambassadors who show passion and understanding of their venues (88%). 
Bartenders in Germany feel that Cocktails (24%) and pre-batched cocktails (10%) present the biggest opportunity for growth over the next 12 months, which creates the right set of circumstances, especially for spirits suppliers to offer support through training. Only a 1/3rd of bartenders say they are expert in cocktails and perfect serve, and 1 in 5 want training in creating drinks and developing menus. This highlights a key opportunity for drinks suppliers to equip bartenders with the skills they need while developing their knowledge of their brands. 
Influencing consumer purchasing decisions at the bar 
Bartenders play an important role in influencing consumer drink choices, often providing drink recommendations at the point of purchase.  40% of German bartenders state that they often recommend the first drink that comes to mind, so regularly engaging bartenders around the features and provenance of brands via training will keep brands top of mind.  37% of bartenders state that they are more likely to make brand recommendations off the back of training and 31% say that training makes them feel more confident when making a recommendation as it helps to establish them as a trusted source.    
Graeme Loudon, Managing Director, EMEA, said: "The support and investment brands and suppliers give bartenders will have tangible long-term benefits, solidifying the position of brands as front-of-mind for bartenders when they are making recommendations in the future. Knowing how influential they are in stocking and listings decisions for the bar, its crucial to engage with them to minimise any risk of de-listing, especially within competitive categories." 
CGA by NielsenIQ's research provides actionable insights into brand advocacy opportunities across the German gastronomy market and global markets to help suppliers understand how brands can benefit from their continued engagement. To learn more about CGA's global bartender research, contact Graeme Loudon at graeme.loudon@cgastrategy.com. 
The German Bartender 2022 study surveyed 50 bartenders/managers who currently work in the German gastronomy market during 18/04/2022 to 03/05/2022. 
The report is now available to download here.