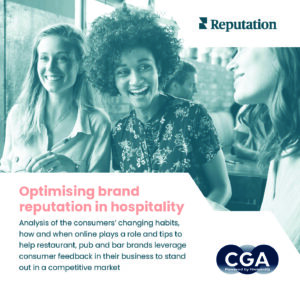 The exclusive study from CGA by NielsenIQ, commissioned in partnership with Reputation, a global leader in reputation experience management, has unveiled the extent to which macroeconomic factors like global inflation and the COVID-19 pandemic have fundamentally shifted the customer journey to include online engagements across Britain, France and Germany.
The study includes insights from a survey of around 2,300 nationally representative consumers in Britain, France and Germany who have visited a pub or restaurant over the past six months, looking at their decision-making process before, during and after a visit. It found that consumers are still keen to eat out, despite inflationary pressures, and they are turning to digital channels to help them make decisions. However, rather than searching for the cheapest option, they would rather make fewer visits and prioritise great value and quality when they spend their money.
The report highlights several key takeaways on consumer habits when visiting pubs, bars and restaurants:
Across Britain, France and Germany, 23% of all consumers say they demand more from venues than they did 12 months ago.
Across the three countries, nearly 71%, agree that eating and drinking out is the treat they most look forward to.
The cost of living crisis is a major concern, with 65% of British consumers reporting that they are worried about cost increases and 42% stating that they are dining out less frequently than they did before the COVID-9 pandemic.
"While consumers are still keen to treat themselves, they are pulling back on the frequency of pub, bar and restaurant visits, making every step in the customer journey a make-or-break moment for operators," says Chris Sparling, CX Strategy Director at Reputation.
"With consumers prioritising the best value for their money, hospitality industry leaders must find ways to elicit, analyse and take action on customer feedback, so they can make continuous improvements to the guest experience. Tools like Reputation are helping pub, bar and restaurant operators make feedback work harder for their businesses by improving the customer experience to drive repeat visits."
The report also highlights the many ways in which consumers interact on digital platforms with those brands before, during and after a visit. While 57% of consumers across all three countries are more likely to visit a venue if its food, drink or atmosphere look good on social media, there are some slight variations in digital interaction habits by country – 32% of French consumers are likely to recommend a venue during their visit compared to 19% British guests and 24% of German guests.
Karl Chessell, CGA director – Hospitality Operators and Food, EMEA, adds: "The cost of living crisis is having a significant impact on consumers' discretionary spending, and it's substantially raised their expectations when they go out to eat and drink. Our research shows their love of pubs, bars and restaurants is undimmed, but they want to be sure they will get full value for their hard-earned cash. Operators will have to stay laser-focused on guests' habits and priorities and be agile and fast when they act on feedback. Despite all the challenges, brands that make continuous improvements to their customer experiences have a lot to look forward to this year."
The 'Optimising brand reputation in hospitality' full report is available to download now – click here.