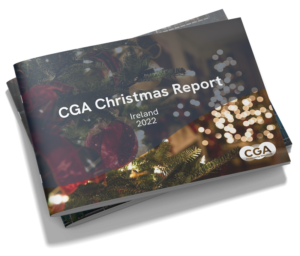 CGA's Ireland 2022 Christmas Report shows nearly nine in ten (88%) consumers in Ireland went out for food and drinks in December. Nearly half (48%) said they were going out more than over Christmas 2021—a welcome sign that consumers now feel much more confident about visiting pubs, bars and restaurants, and are making up for occasions they missed over COVID lockdowns.
Research conducted prior to Christmas highlighted that a large proportion of consumers were intending to visit drinks-led visits to 'get into the Christmas spirit' or enjoy festive celebrations, reinforcing that there is a clear desire to prioritise the On Premise for celebratory occasions.
However, the research also shows that many consumers in Ireland are being cautious about their spending because of soaring household bills. Around a third of consumers went out over Christmas, but chose cheaper drinks to stay within budget.
CGA's Christmas Report for the Ireland market provides substantial analysis into consumers' festive visits and their choices of venues and drinks. It shows a third (32%) of consumers tried new drinks or brands in December 2022—and four fifths of them said they would buy them again. For drinks brands, this highlights an opportunity to target consumers with NPD, and targeted activations to prompt trial and experimentation across celebratory and special occasions.
Across category consumption, while lager, soft drinks and cocktails were the top three drinks categories, hot alcoholic drinks substantially out-performed – with classics such as mulled cider and mulled wine proving popular with consumers getting into the Christmas spirit.
Sian Brennan, CGA's client director, Ireland, said: "Our research shows the On Premise remains at the heart of Christmas celebrations in Ireland. Despite the cost of living crisis, many consumers remain very eager to visit pubs, bars and restaurants, but three years of COVID and high inflation have shifted their behaviour in very important ways. Understanding their choices of drinks, venues and occasions and adapting to them with the right combination of quality and value is going to be crucial in generating sales and share this year, and successful responses can give brands a big head start for the 2023 Christmas season."
CGA's Ireland 2022 Christmas Report features many more insights into sales data and consumer trends, and can help all suppliers and operators to optimise sales and marketing strategies for Christmas 2023. To learn more about the report and how CGA's research unlocks new sales and share across Ireland's On Premise, click here and email Sian Brennan at sian.brennan@cgastrategy.com.