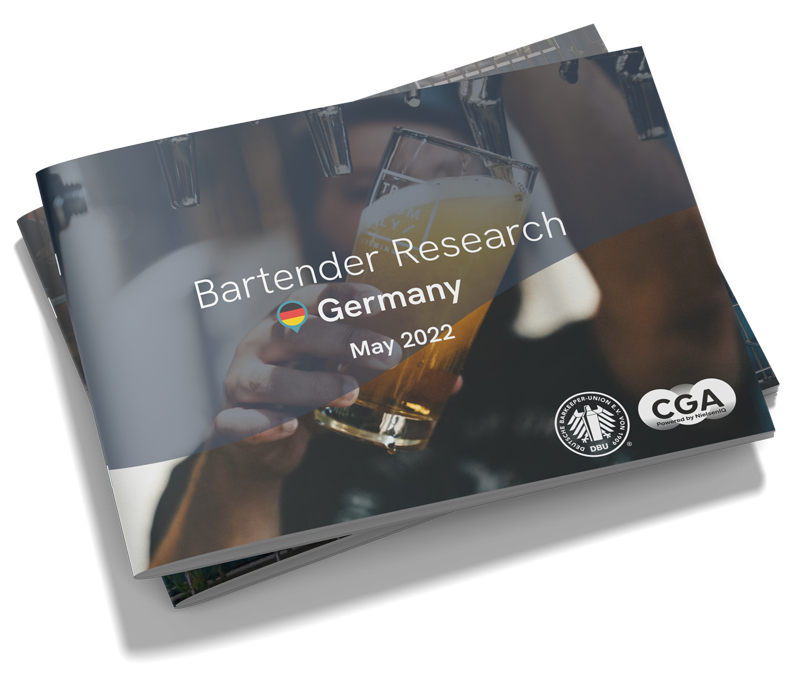 Results from the German Bartender Report 2022 produced by CGA by NielsenIQ in partnership with Deutsche Barkeeper-Union (DBU) demonstrates that whilst there are underlying challenges on the industry as a result of COVID-19, bartenders are keen to engage with drinks suppliers and engage with more training programmes. CGA's OPUS consumer research also reveals how bartenders have a significant influence on buying behaviours in the On Premise.
In the On Premise, German consumers are keen to experiment with new categories and brands, with 58% preferring different drinks in bars and restaurants compared to when they are at home. These consumers are more likely to experiment with new options in higher tempo channels such as bars (66%), late night bars (63%) and nightclubs (57%) – highlighting that targeting NPD in these type of venues will produce stronger results for drinks brands in their activation campaigns. However, bartenders can also play a significant role in shaping consumer experimentation and trial.
48% of German consumers can still be swayed by bartender recommendations even when they have already decided what to drink, highlighting opportunities for drinks suppliers to drive trial and sales of their brands by targeting hospitality professionals with training and engagement campaigns.
As bartenders are the On Premise's final link between brands and consumers at the point of purchase, it's vital that drinks brands understand what bartenders want and require from them. Bartenders have varying supplier advocacy needs, in line with their experience and the venue type they work for, meaning it's a work in progress for drinks suppliers to re-adapt and re-model training programmes and staff incentives to equip bartenders to deliver the perfect pours and make recommendations to consumers at every opportunity.
Additionally, brands can optimise meaningful relationships by visiting bartenders regularly – 24% state this is more important to them now vs pre-pandemic, while also demonstrating a genuine interest in the venue and its team members. In return, brands will be more front of mind for bartenders, as 52% recommend personal favourite brands, 54% do so of brands with an interesting back story and 70% based on the taste preference of the guest – making them likely to include them in their repertoire when making recommendations.
Overall bartender relationships with suppliers are strong, as 72% of bartenders rate their supplier relationships as good/very good, but support needs to go beyond this level if they want bartenders to recognise their efforts. A colossal 98% of bartenders have received some drinks training during the past 6 months, and 70% confirm the likelihood of participation in future engagement programmes provided by drinks suppliers.
Graeme Loudon, managing director, EMEA said: "It's clear that bartenders play a significant role in the consumer decision making process in the German On Premise, and can drive trial and engagement with drinks brands. Suppliers need to maximise these opportunities by providing more extensive training and building stronger relationships with hospitality professionals.

"Overall, our data clearly indicates a keenness amongst bartenders to get involved with brands that can support their venues. It's an opportune moment for suppliers to re-frame their approach to brand advocacy to harness current optimism levels and build genuinely authentic, robust and highly beneficial bartender relationships."
CGA's research provides actionable insights into brand advocacy opportunities across the German On Premise and global markets to help suppliers understand how brands can benefit from their continued engagement. To learn more about CGA's research capabilities and the bartender research, contact Graeme Loudon at graeme.loudon@cgastrategy.com.
The German Bartender 2022 study surveyed 50 bartenders/managers who currently work in the German On Premise during 18/04/2022 to 03/05/2022.
The report is now available to download here.
Click here to view this article in German
Klicken Sie hier, um diesen Blog auf Deutsch anzuzeigen.