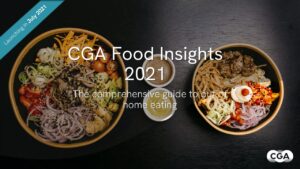 The exclusive new report has a wealth of insights into diners' habits. As in 2019, British is the cuisine most widely consumed, with 85% of consumers choosing it while eating out—followed by Italian (76%), Chinese (73%), Indian (69%) and American (65%).
The same five types make up the list of most popular cuisines for deliveries, but the ranking looks very different. Indian food is top here, with just over half (51%) of consumers saying they are likely to order it, followed by British (43%), Italian (40%), Chinese (39%) and American (38%).
The 'Food Insights Report 2021' spotlights many more aspects of consumers' preferences, combined with outlet-level data to flag the big trends in both supply and demand. They include:
While Italian food remains the most popular non-British cuisine, Chinese has overtaken it this year as the most easily available
Burmese tops the report's list of fastest emerging cuisines, followed by Peruvian, Filipino, Pacific Rim and Scandinavian—and with demand still growing much faster than numbers of restaurants, there are opportunities for operators to embrace them—and for new concepts to fill the gap
Numbers of Indian, Italian, Thai, American, Chinese, Mexican and French restaurants have all dropped by more than 10% since 2019, following a wave of closures during the pandemic
Vegetarian and vegan, Portuguese, Turkish and Middle Eastern restaurants have all grown in number over the last two years.
The full 'Food Insights Report 2021' is available to order from CGA now. It offers a range of actionable information and analysis to help suppliers and operators understand crucial changes in consumers' out-of-home eating habits after COVID-19, and plan sales, marketing and brand strategies accordingly.
As well as identifying the latest trends and opportunities, the report has a special focus on areas where consumers' preferences have changed dramatically during COVID-19, including delivery and health. The report comes with an extensive data pack, plus opportunities to receive bespoke analysis and consumer segmentation to help pinpoint target markets.
To learn more, please email Lyuling.Sun@cgastrategy.com