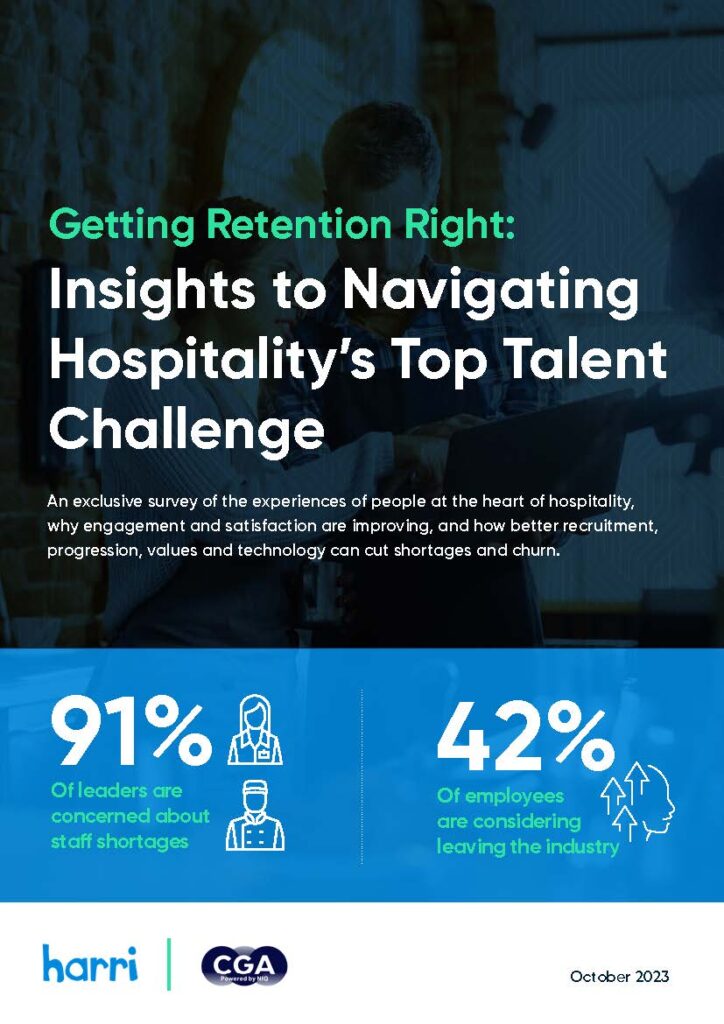 Hospitality has taken some great strides forward in employee engagement. But more work remains to be done, and every business can always find ways to improve recruitment and retention. Here are seven top takeaways for good practice inspired by Harri and CGA's survey and interviews:
Understand employees' experiences to improve word-of-mouth
Measuring employee sentiment to understand and improve their experiences helps retain them for longer and builds positive word of mouth—which can make or break an employer's brand. It's critical to create and maintain a positive work culture with consistent employee check-ins from onboarding onwards. Workforce management software can automate employee communication, maintain consistency and track employee sentiment so you can get ahead of turnover risk.
Build effective review frameworks
Creating consistent and repeatable frameworks for performance reviews helps employers understand what each team member values and respond with appropriate improvements. A tech-enabled review framework creates a structured, accurate, and timeline-driven process that streamlines and elevates the review experience for managers and employees alike. It can also reduce bias caused by reviewer preference and ensure that rewards and recognition are based on performance, not preference.
Provide flexibility
Promising flexibility on shifts isn't always easy. But with so many employees citing anti-social hours, limited time off and a lack of say on rotas as key challenges, businesses that help employees establish a positive work-life balance are likely to achieve better retention. Technology can help employers access this flexibility and provide their employees with a regular schedule that they can commit to. It can also allow staff to swap existing shifts and pick up open ones. Hospitality is a unique industry outside the 'norms' of traditional work, and by emphasising flexibility, employers can help people fit work into their lives—not fit lives into their work.
Focus on values
Ethics are an increasingly important issue for hospitality workers—especially those from Generation Z. Communicating attributes like honesty, equality, respect, and trust creates positive impressions among current and prospective employees. Values should be part of an employer's brand, hiring processes, onboarding materials, and ongoing communications.
Emphasise career progression
To promote hospitality, operators need to show that it's a place to build a rewarding career and earn good money. Mapping out career paths during recruitment, highlighting progression opportunities at performance reviews, and offering the flexibility to change directions and try new roles can all help workers see a positive future in the business. Leveraging an HR system to identify the skills make-up of your current workforce and how employees' skill sets are a match for new roles can help you to continue to hire and promote from within. Crucially, this can provide motivation and satisfaction for the large proportion of employees who are considering a change of career path.
Employ technology to make employee tasks easier
While the use of technology in team engagement is increasing, around a third of employees don't think it's advanced or don't see it at all. There are many areas in which digital solutions can make life easier, including paycheck access, shift management, and digital clocking in and out. This can also remove administrative burdens from managers.
Identify where AI can help your workforce
Artificial Intelligence has exciting potential to increase efficiencies and reduce repetitive tasks in hospitality. People teams will need to make sure their businesses make the most of these opportunities without compromising the personal interactions that guests want.
CGA and Harri's report 'Getting Retention Right: Insights to Navigating Hospitality's Top Talent Challenge' is based on a survey conducted that drew responses from more than 500 current or recent employees in hospitality. The survey captured a wide range of roles from front- to back-of-house across multiple sectors including restaurants, pubs, bars, hotels, and catering. Click here to access the full report.