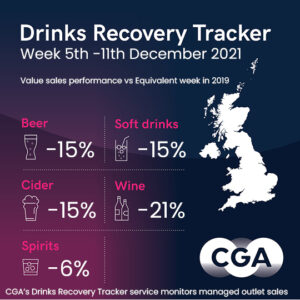 CGA's Drinks Recovery Tracker shows average drinks sales by value in Britain's managed pubs, bars and restaurants in the week to last Saturday (11 December) were 13% below the same week in 2019. It is the third week of double-digit decline in a row, after a 14% drop in the previous week and a 12% fall in the seven days before that.
Anxiety about the spread of the Omicron variant, along with instructions to work from home and warnings about socialising, have led many consumers to stay at home at what should be the busiest time of year for drinking-out. COVID-19 pass requirements for nightclubs and large venues have also been a factor in a wave of Christmas party cancellations.
In Scotland, where COVID-19 restrictions have been toughest, drinks sales were down by 18% last week, compared to 13% in England and 11% in Wales. Across Britain, sales were between 6% and 19% down on 2019 on every day of the week. The spirits category helped to shore up some trading, with sales down only 6%, but beer and cider (both down 15%), wine (down 21%) and soft drinks (down 15%) all suffered.
"It has been a poor start to December for the sector. Recovery has taken a significant step back and we can expect sales numbers to dip even further below pre-pandemic levels," says Jonny Jones, CGA's managing director, UK and Ireland. "It is another big blow for an industry that was pinning hopes on a busy Christmas to recoup losses from 2021's lockdowns and restrictions, but that is instead looking at a pretty bleak winter. Thousands of businesses are now in danger, and tax support and grants are now urgently needed to save them."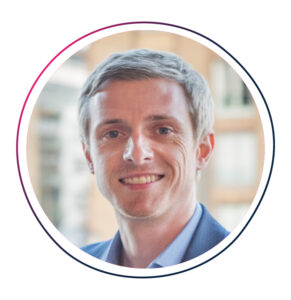 CGA's Drinks Recovery Tracker service monitors managed outlet sales as the drinking-out market continues to recover, providing category, supplier and brand rate of sale performance versus pre-COVID-19 sales. Suppliers and operators that want to track the recovery of drinks sales, benchmark performance or identify changes in trends and consumer preferences should contact jonathan.jones@cgastrategy.com.