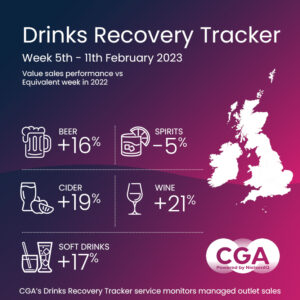 The figure, from CGA by NielsenIQ's latest Drinks Recovery Tracker, means trading has been above the equivalent period in 2022 during every week of this year so far. It is also a good upswing from 6% in the previous Tracker—the first week-on-week improvement since December.
Year-on-year trading was ahead on every day of the week, peaking at 12% up on Sunday (5 February). In keeping with recent patterns, growth was more modest on Friday (up 2%) and Saturday up (4%) than on most midweek days.
The wine category had a particularly good week, with sales up by 21% on the same period in 2022. Cider (up 19%), beer (up 16%) and soft drinks (up 17%) were all in double-digit growth too, but spirits sales were 5% behind.
"Year-on-year comparatives are relatively easy at the moment, but it's great to see that drinks sales growth is now outpacing inflation," says Jonathan Jones, CGA's managing director, UK and Ireland. "Achieving real-terms increases in such a difficult trading environment is very impressive, and testament to the enduring appeal of pubs and bars, even when consumers are feeling the pinch on spending."
CGA's Drinks Recovery Tracker monitors managed outlet sales as the drinking-out market continues to recover, providing category, supplier and brand rate of sale performance versus pre-COVID-19 sales. Suppliers and operators that want to track the recovery of drinks sales, benchmark performance or identify changes in trends and consumer preferences should contact jonathan.jones@cgastrategy.com.