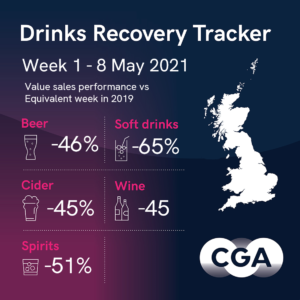 In the seven days from Sunday 2 to Saturday 8 May, CGA's Drinks Recovery Tracker revealed a 51% drop in like-for-like sales from the equivalent week in 2019. It continues the pattern of falling sales since the reopening of hospitality in mid-April—from a strong initial return as the sun shone and a solid second week to a tougher third week as rain set in across the country.
All venue types endured a difficult seven days, though pubs (down 46%) continued to outperform restaurants (down 65%) and bars (down 70%).
Storms made Bank Holiday Monday (3 May) a washout for many operators, with drinks sales down 66% on the same day in April 2019. Sales gathered momentum on Tuesday (down 53%), Wednesday (down 45%), Thursday (down 41%) and Friday (down 26%) as the weather picked up, but then sank 58% on Saturday as rain returned.
After bouncing back well in April, drinks sales have been at the mercy of the spring weather, and what could have been a profitable week turned into something of a damp squib," says Jonathan Jones, CGA's managing director, UK and Ireland. "It was particularly tough on operators in Scotland and Wales, which were only able to return towards the end of last month. It is a big relief to get the green light to escape the weather by opening indoors across Britain from Monday 17 May, and we can expect to see a fresh wave of drinkers returning to the venues they have missed so much in lockdown."
CGA's category data indicates broadly even drops in sales of beer (down 46% on the same week in 2019), cider (down 45%), wine (down 45%) and spirits (down 51%). Soft drinks were down 65%—but recorded 12% growth in Scotland, where regulations have allowed their sale indoors alongside food until 8pm.
The CGA Drinks Recovery Tracker service measures drinks category, supplier and brand rate of sale performance vs Pre-COVID19 sales. Daily data is reported within three days. Suppliers and operators that want to track the recovery of drinks sales, benchmark performance against the competition or identify changes in trends and consumer preferences, contact jonathan.jones@cgastrategy.com.