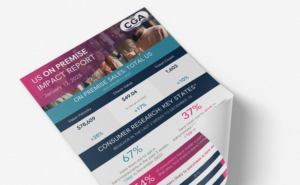 CGA's Consumer On Premise Impact Report uses data from a survey (January 10-13, 2023) of 1,597 consumers within Florida, Texas, California and New York to explore their expectations, desires and how they plan to behave in the next two weeks.   
Overall, visitation remains consistent over recent months, with almost 7 in 10 consumers visiting bars and/or restaurants for food-led occasions in the past 2 weeks, while 2 in 5 have visited for drinks-led occasions. Frequency of visits also remains steady, with 4 in 5 consumers visiting the On Premise 3 or more times in the last 3 months.  
With satisfaction levels across the On Premise remaining high, with 9 in 10 consumers happy with their overall experience, it's no surprise that consumers in the US are eager to visit bars and restaurants in the future – with 59% planning to visit in the next week. 
Most recently, the festive season drove visitation up, with 1 in 3 consumers visiting the On Premise for New Year's Eve. Consumers opted for a range of different venues to celebrate the occasion, spread evenly across Sports bars, Fine dining venues, Hotel bars, Nightclubs and more. Consumers were highly satisfied with their evening, with 4 in 5 satisfied with pricing of drinks in particular.  
Over the past 3 months, 56% of US consumers have noticed some sort of drinks promotion in the On Premise during their visits. These promotions tend to be discount pricing, followed by the offer of free samples, and using QR codes in-venue for offers and prizes. Amongst those consumers who have seen drinks promotions, nearly 7 in 10 have taken part, underlining the value they play in guiding consumers to trial specific drinks. These promotions prove to be quite effective in driving ongoing consumption and loyalty, with 64% of consumers who have bought a brand as part of a drinks promotion continuing to buy it following the promotion. 
Matthew Crompton, CGA by NielsenIQ Regional Director – North America, said: "On Premise visitation has remained consistent throughout our reports, and it's clear that consumers continue to be very satisfied with both the level of service they receive during visits, and their overall experience. Our previous research has highlighted that the On Premise is a key channel for prompting trial of drinks brands, with this month's report reinforcing that promotions should form an important part of this strategy to drive both awareness and loyalty." 
The Consumer On Premise Impact Report is a consumer research report tracking and reflecting on how consumers currently feel about the On Premise, and how the sector can position its offering to increase visitation. The latest On Premise Impact Report by CGA, along with other special reports issued over the past several weeks, can be found here: https://cgastrategy.com/on-premise-impact-us/ 
For more information and support please contact Matthew Crompton at Matthew.Crompton@cgastrategy.com