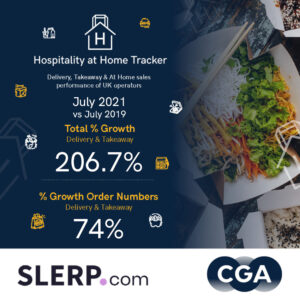 The CGA & Slerp Hospitality at Home Tracker shows sales in July were 206% higher than in July 2019—a drop on the growth in June (225%) and May (273%), following the return of indoor service in June and 'freedom day' in July. Although the lifting of all restrictions across hospitality has led to an increase in eating out, delivery has maintained its 20.5% share month-on-month while takeaway sales (defined as being collected from an outlet by the customer, including Click & Collect and Drive-Thru) declined by 1.3%.
This correlates with the significant growth in delivery sales compared to 2019, which in July was nearly three times higher than takeaways. In total, delivery and takeaways accounted for over a third of restaurant and pub groups' sales in July.
"As consumers returned to eating and drinking out following restrictions lifting, growth has naturally begun to slow in delivery and takeaway sales. However, it's clear that consumer behaviours have shifted and hospitality at home will remain an important consideration," says Karl Chessell, CGA's business unit director – hospitality operators and food, EMEA. "Understanding the balance between out-of-home and at-home preferences will be key to shaping sales and marketing strategies for all brands, as consumers continue to embrace the delivery and takeaway trend."   
Hospitality at home remains key for our sector and it shows with online delivery market share remaining at 20.5%. With the multiple challenges facing the sector as it reopens, it is now needing more than ever a focused approach to delivery as an incremental business stream," says JP Then, Founder of Slerp. "It's exciting to see businesses starting to hire dedicated online ordering experts and create exclusive online offerings to continue to power growth. This is especially key for marketing to consumers during the upcoming seasonal period."
The CGA & Slerp Hospitality at Home Tracker is the leading source of data and insight for the delivery and takeaway market. It provides monthly reports on the value and volume of sales, with year-on-year comparisons and splits between food and drink revenue. It offers a benchmark by which brands can measure their performance, and participants receive detailed data in return for their contributions.
CGA's partners on the Tracker are: Azzurri Group, BrewDog plc, Burger King UK, Cote Restaurants, Gaucho Grill, Giggling Squid, Honest Burgers, Nando's Restaurants, Pizza Express, Pizza Hut UK, Prezzo, Rosa's Thai, TGI Fridays UK, The Restaurant Group, Tortilla, Wagamama and YO! Sushi.    
Anyone interested in joining the Tracker should contact Karen Bantoft at karen.bantoft@cgastrategy.com.

About Slerp:
Slerp is the leading online ordering solution and digital growth platform for the hospitality industry. Built for operators by operators, Slerp empowers hospitality businesses to take ownership online, shaping the future of hospitality with digital innovation.
Trusted by renowned operators, from restaurants to hotels and bakeries, Slerp offers a tailored solution that lets businesses sell direct from their websites and social channels to everyone, everywhere.
With online ordering, order at table, loyalty apps and digital marketing services, Slerp has all the solutions to diversify revenue streams and future-proof growth online.
To learn more, visit www.slerp.com
About CGA:
CGA is the definitive On Premise measurement, insight and research consultancy that empowers the world's most successful food and drink brands. With more than 30 years' experience and best-in-class research, data and analytics, CGA is uniquely positioned to help On Premise businesses develop winning strategies for growth.
CGA works with food and beverage suppliers, consumer brand owners, wholesalers, government entities and pub, bar and restaurant retailers to protect and shape the future of the On Premise experience. Its mission is to use phenomenal data and expert insights to give brands a competitive edge and ensure the market we love is the most vibrant possible.