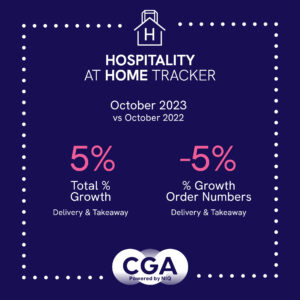 It is a fifth month of like-for-like growth in a row and continues a steady recovery in restaurants' at-home sales in 2023. The build-back follows a long decline after the end of COVID-19 restrictions, which had led to a surge in consumers ordering food to their doors. It means that deliveries and takeaways now account for just under 15 pence in every pound spent by consumers with restaurants contributing to the Hospitality at Home Tracker. 
However, October's year-on-year growth of 5% marks a slowdown from September, when combined sales were 7% higher than the same month in 2022. It means growth has dipped slightly behind the rate of inflation, and the increased revenue is the result of higher menu prices rather than extra orders. 
The Tracker also highlights consumers' ongoing preference for deliveries over takeaways. Year-on-year growth in delivery sales reached 6% in October, while takeaway and click-and-collect revenue was 2% down from October 2022. 
Karl Chessell, CGA by NIQ's director – hospitality operators and food, EMEA, said: "Managed groups' delivery and takeaway sales took a sustained hit after the end of COVID lockdowns, but growth is now on a par with in-restaurant sales. The convenience of ordering platforms and lower prices suit some consumers' habits at the moment, and the new balance of eating-out and at-home sales that is emerging will satisfy many operators. Organic growth in both channels while avoiding cannibalisation of sales will be a top priority for all restaurants in 2024." 
The CGA Hospitality at Home Tracker is the leading source of data and insight for the delivery and takeaway market. It provides monthly reports on the value and volume of sales, with year-on-year comparisons and splits between food and drink revenue. It offers a benchmark by which brands can measure their performance, and participants receive detailed data in return for their contributions.  
Partners on the Tracker are: Azzurri Group, Big Table Group, Byron, Cote, Dishoom, Five Guys, Gaucho Grill, Honest Burgers, Island Poke, Nando's, Pizza Express, Pizza Hut UK, Prezzo, Rosa's Thai, TGI Fridays UK, The Restaurant Group, Tortilla, Wagamama and YO! Sushi. Anyone interested in joining the Tracker should contact Karen Bantoft at karen.bantoft@nielseniq.com.