Click here to view this blog in Spanish/Ver este blog en español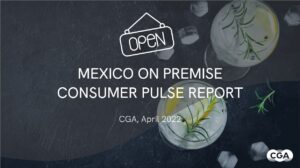 This month's research reveals that overall, consumers in Mexico remain very confident about visiting bars and restaurants, with over 8 in 10 consumers stating they feel 'very or quite confident' in frequenting the On Premise. In the last two weeks, 7 in 10 consumers have visited the channel for food-led occasions, with 53% visiting for drink-led occasions. Beer once again reigns supreme in terms of most popular drink choices, followed by soft drinks at 61% (+3pp versus last month) and Tequila remaining on top as the most consumed spirit category (48%). 
As consumers opt for low-tempo occasions such as 'wind down/chill out' (55%) and 'a catch up with friends' (60%), restaurants have remained consistent as the most popular channel over the last three months with 9 in 10 consumers visiting this channel, following by cafes (57%) and bars (54%). However, consumers are also still making up lost time following the pandemic, with 45% visiting the On Premise for 'treat/reward' occasions and 41% choosing the channel for celebrations such as birthdays and weddings. A third (33%) of consumers have visited late night bars in the last three months, with just 17% opting for more high-tempo occasions by visiting nightclubs. 
Future visitation looks promising with close to 75% planning to eat out and almost 6 in 10 consumers planning to drink out over the next two weeks. Looking ahead to the next time they'll go to bars and restaurants, most consumers are planning to visit on a Friday (33%) or Saturday (48%), with the early and late evening being the busiest dayparts. 
Matthew Crompton, regional director – North America

CGA's regional director – North America, Matthew Crompton said: "Consumers in Mexico are clearly confident in returning to their favourite bars and restaurants, with planned visitation remaining high ahead of Semana Santa (Holy Week) from April 10 – an occasion which typically sees an uplift in the On Premise as consumers go on vacation. What will be key for operators and suppliers in the Mexican market is continuing to monitor how consumers' tastes will shift over the coming months, particularly when it comes to On Premise occasions, which is why the free analysis and insights included in our monthly Consumer Pulses are so crucial." 
Download the latest Mexico On Premise Consumer Pulse here – https://cgastrategy.com/mexico-on-premise-impact-report-consumer/ 
CGA's upcoming Mexican On Premise User Study (OPUS) will deep dive into how drink choice varies by occasion and what brand owners can do to gain mindshare. To learn more about CGA's consumer research and market measurement services across Mexico, please contact Matthew Crompton at matthew.crompton@cgastrategy.com