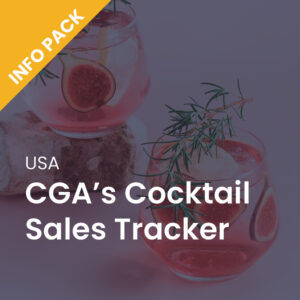 Q2 2023 saw a dip in velocity versus the same time last year (-20%). Yet cocktails have performed comparably to previous quarters, with an average check value of $81.73 (+$2.44) and an average price of $12.50 (+$0.50).
So, which channels are experiencing cocktail higher velocities? Eating outlets continue to outperform bars and other drinking venues over each quarter. Although drinking outlets are picking up pace and performing better now than versus the second half of 2022, ($6,024 compared to $5,561 in Q3 of 2022 and $5,529 in Q4 on 2022).
In terms of when consumers are ordering cocktails, the most recent quarter has outperformed over most days of the week, but velocity remains strong on Sundays, at $1,806 in Q2 2023, ahead of the previous three quarters.
From mid-day onwards, all dayparts have experienced consistent or slightly lower cocktail velocities, while the breakfast / brunch slot at 0600-1100 shows an increase in Q1 and Q2 of 2023 versus the last two quarters of 2022, reflecting an increasing opportunity at this daypart outside of the early evening.
Geographically, velocity over the majority of states has dropped this year. However, Nevada continues to perform well, maintaining top spot with $35,647 value velocity in Q2 2023, up significantly from $27,605 year-on-year. Texas also remains a popular state for cocktails, going up from 3rd place in Q2 2022 to 2nd in 2023.  Additionally, Rhode Island saw an increase in velocity from $17,785 to $18,531, and also ranked higher versus last year, up from 9th to 3rd place. The outlook was similar for Arizona, with a cocktail velocity increase from $17,954 to $18,430, plus a move up the table from 8th to 4th spot.
Overall, various cocktails are enjoying higher velocity on different days of the week and during multiple dayparts across different States. With many and varied horizontals and verticals at play, it's of imperative for brands and suppliers to understand which cocktails align best with brand strategies, in order to identify opportunities and maximize sales.
Matthew Crompton, regional director – North America said: "Cocktails are demonstrating comparable performance and continue to hold firm as a key category for spirits suppliers, due to the significant proportion of spirits sales going into cocktails. The latest tracker measures and analyzes not only the size of the prize of the cocktail category, but how it translates into brand opportunities. As a result of unlocking key insights, drinks suppliers and brands are forearmed to identify potential and evolve their cocktail strategies for the highest impact."
CGA's Quarterly Sales Tracker is available to purchase now. Delivered as a quarterly report, the tracker is powered by CGA's BeverageTrak, and ensures suppliers can understand the evolving cocktail sales dynamics over time and maintain a successful and evolving cocktail strategy.
For more information on the Cocktail Sales Tracker, click here, or contact Matthew Crompton at Matthew.Crompton@cgastrategy.com