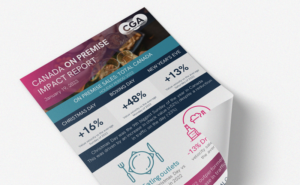 In the past month, 4 in 5 Canadian consumers have visited the On Premise for a food-led occasion, and a third have been visiting for drink-led occasions. Visiting the channel continues to be a priority for over a third (37%) of consumers, who have visited the On Premise 3 or more times in the past month.   
The most recent report highlights that while the majority of consumers are drinking their respective categories; Beer (61%), Wine (60%), and Spirits (56%) the same as a year ago, there's a proportion of consumers that have shifted their consumption and are now drinking these categories more or less compared to last year.  
Spirits is the top category consumers drink more of now compared to a year ago (20%), which can be attributed to consumer desire to actively try Cocktails in the On Premise (+33%). This presents opportunities for drinks suppliers to strategically leverage this consumer segment, and by presenting suitable brand ranging and promotion on Cocktail menus can enable an increase in consumption.  
Experimentation has largely been driven through both Spirits and Wine, speaking to premiumization and the itch for consumers to try different drinks within these categories while this factor being less popular within Beer.
Looking specifically at the reasons for reduced category consumption, cost remains the top motivation factor, and consumers state drinks are expensive in the venues they visit across all three categories; Wine (49%), Beer (48%), and Spirits (39%). Spirits is the one category where consumers stated that the serve cost impacts them less compared to other categories such as Beer, and with almost 80% of consumers being very satisfied/satisfied with the value for money in Premium Bars – it seems quality is key for consumers' willingness to spend more in the On Premise. Combining this with the increase in consumption and experimentation of the category, it shows the huge opportunity around premium spirits.  
Following this, reasons for drinking the category less is down to personal tastes having changed, predominantly with Beer consumers (39%), but also Wine (33%) and Spirits (31%) and means consumers are likely to be moving between other categories. Keeping consumers engaged in the category and offering a suited range of options alongside strategic marketing and activation's can keep consumers to stay loyal to that particular category. 
How well the drink is suited to the venue was important for consumers of Spirits (30%), Beer (28%), and Wine (26%) – highlighting the importance of the drink matching the atmosphere of the venue, operators can use this information to ensure activation's and menus reflect the venues aesthetic.   
Mitch Stefani, Client Solutions Director – North America said "Keeping in tune with consumers' changing consumption habits is key to understanding exactly what is driving the appeal to the category and what's needed to keep them interested in and engaged longer-term. Brands, suppliers and operators who are informed with CGA's insights can effectively develop tactics in outlet to cater to these changing behaviors and build brand loyalty among those who are experimenting with different categories." 
CGA surveyed 1,200 respondents in Ontario, Alberta, British Columbia and Quebec who have visited On Premise venues in the past 3 months. 
CGA's  On Premise Consumer Impact Report is consumer research refreshed on a monthly cadence tracking current behaviour among On Premise visitors, and exploring how they are engaging with specific trends and new happenings taking place in the channel. To find out more about the full subscription of reports, including analytics, download more information here, and the latest On Premise snapshot can be found here. 
OPUS (On Premise User Study) can offer a comprehensive analysis of consumer category consumption and gives you the power to understand the ever-changing relationship between consumers, brands, categories, channels and occasions. To learn more, please email Mitch Stefani, Client Solutions Director – Americas at Mitch.Stefani@cgastrategy.com.