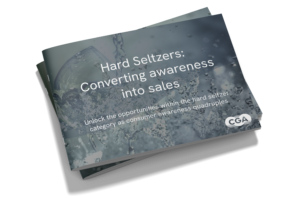 The Hard Seltzers: Converting awareness into sales report reveals the stellar growth of the category, with awareness nearly quadrupling in just 18 months—from 4.4 million consumers in February 2020 to 16.2 million in August 2021. That means around a third (34%) of consumers have now heard of hard seltzers—and CGA's research can help convert this fast-growing cohort of potential buyers into spenders and brand advocates.  
These insights are designed to help suppliers understand the target market for hard seltzers, maximise the reach of established brands and launch new products, and identify ways to work with operators to capitalise on this massive opportunity for growth. 
CGA's report reveals many more crucial insights into current and prospective drinkers, including: 
Hard seltzer drinkers have an average monthly spend on eating and drinking out that is £40 higher than the average GB consumer, while 79% drink out at least weekly—more than double the average. 

 
Four in five (79%) hard seltzer consumers say they proactively try to lead a healthy lifestyle—nine percentage points higher than the average consumer, and a sign of the importance of the health trend in promoting hard seltzers.

 
Cocktail, spirit and cider consumers are most likely to try hard seltzers—so taking cues from activations and serve strategies in these categories might encourage trial.

 
The new report is based on a survey of 5,000 On Premise consumers, and uses CGA's exclusive MATCH segmentation tools to profile and locate the types of people who are open to trying hard seltzers. It also includes valuable comparisons with the US market, where the hard seltzer category has generated sales of $904m (£668m) in the last 12 months.  
Hard seltzers will soon be a billion-dollar-a-year category in the US, and they're poised for take-off here in the British On Premise," says Tom Quinn, senior client manager at CGA. "Businesses need to get ready by learning lessons from across the Atlantic and considering how the trend is likely to develop here." 
The full 'Hard Seltzers: Converting awareness into sales' report is available now, along with bespoke MATCH research to cross-analyse retailer-specific consumers. To learn more, please email senior client manager Tom Quinn at tom.quinn@cgastrategy.com.