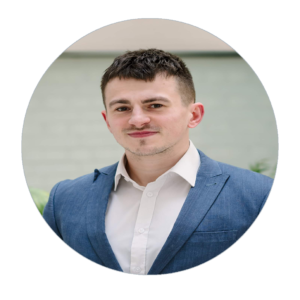 After 18 months of on-off closures and severe trading restrictions, the full scale of COVID-19's impact on British pubs and bars is becoming clear. A staggering £100bn has been wiped off hospitality's sales in just 15 months between April and June 2021, according to the UKHospitality Quarterly Tracker, while CGA's On Premise Measurement Service data shows rolling 12-month drinks sales are down by around 58% on pre-pandemic levels. This has led to widespread business failures, and the number of pubs and bars in Britain has fallen by more than 3,000 since March 2020.
Confidence rising, but concerns remain
Given all this, the market remains firmly in recovery mode. On top of COVID-19-related challenges, pubs and bars now face a wave of major operational issues, including a shortage of staff, widespread disruption to supply and rising food, drink and energy costs. But the good news is that some green shoots of recovery are starting to emerge. The Coffer CGA Business Tracker has shown that managed pub and bar groups have built reasonable momentum in sales over the summer, while the third-quarter Business Confidence Survey from CGA and Fourth shows that seven in ten (70%) business leaders feel optimistic about their prospects for the next 12 months.
Consumers' confidence is building as well, though some drinkers and diners remain anxious about safety and spending. CGA's latest BrandTrack consumer survey also shows:
Pubs and bars' core, high-spending consumers returned enthusiastically after restrictions started easing in the Spring. Those who visited premises in the first few weeks of reopening spend an average of £94 on eating and drinking out each month—much higher than the £58 average of those who didn't go back promptly.
Some consumers' spending remains squeezed by COVID. In August, around a quarter (26%) said they have experienced a decrease in their household income, and one in ten (10%) faced financial hardship.
Months of closures and restrictions on socialising left people eager to get back to high-tempo drinking occasions and make up for lost time. In June, around a fifth said they planned to visit nightclubs (22%) and cocktail bars (20%) more than they did in 2019.
Spirits rising after reopening
As the drinking-out market settles into a new normal, one of the most encouraging trends has been the growth of spirits sales. Between reopening and mid-August, spirits grew their market share of On Premise drinks sales by more than two percentage points, as drinkers celebrated the end of lockdowns with cocktails, shots and shooters. Liqueurs and speciality spirits both grew their share of spirits sales by more than three percentage points, while non-flavoured gin, vodka and whiskey all lost ground.
Across the On Premise, cocktail sales have been higher than 2019 levels in most weeks since reopening—a remarkable performance that comfortably outstrips the market as a whole. Another winner in the early months of trading has been world lager, which has gained share at the expense of standard categories—a sign that consumers remain enthusiastic about premium drinks options.
What's next: Five trends to follow
After months of upheaval, working out the next big opportunities in pubs and bars isn't easy. However, CGA's research highlights some important trends to keep an eye on in the weeks and months ahead.
1 A new focus on health
COVID-19 has intensified people's concerns about health, and 70% of consumers now say they proactively try to lead a healthy lifestyle—up by two percentage points in a year. Three quarters (75%) think it is important to have healthier options available when eating out.
For the drinks industry, this translates into growing interest in low and no alcohol alternatives. More than a third (36%) of consumers say they have drunk these over the last year, a jump of four percentage points since 2019, with mocktails, virgin cocktails and no or low alcohol beer the most popular options. Hard seltzers are another beneficiary of the healthier drinking movement, and the category is starting to penetrate the mainstream: around a third (34%) of British consumers are now aware of them now.
2 Premiumisation and polarisation
The pandemic has not dimmed consumers' enthusiasm for premium drinks and experiences. Ahead of reopening, 15% predicted they would only visit premium venues after lockdown, and a third (33%) say it is now more important to them that their drinks are high quality than it was before COVID-19. However, it is important to remember that not everyone wants a premium offer. A third (33%) of consumers think it is more important that their drinks are good value than it was before COVID-19. This points to an increasing polarisation in drinking-out, and makes it essential for operators and suppliers to establish a range with the right balance of quality and value for customers.
3 More growth for cocktails
The pace of cocktail sales growth shows no sign of slowing. CGA's Managed Volume Pool data indicates that cocktails were worth 2.0% of all sales in pubs in August—more than twice the figure of 0.9% in 2019. Nearly half (44%) of consumers say they drink cocktails in their local venue—and interest is as high among those in rural areas as it is for those drinking in city-centre bars. CGA's research also suggests that consumers are now more open than previously to the idea of buying pre-batched and draught cocktails in pubs and bars, perhaps because they became accustomed to drinking them at home during lockdowns.
4 Continued localisation
The widespread shift to working from home has helped to push many drinking-out occasions away from city and town centres towards suburban and rural pubs. While offices are now opening up again, some of the new working and leisure habits are likely to stick, and two in five (40%) of all consumers now say they have visited their local pub since April. This trend opens up opportunities for neighbourhood pubs and bars to expand and premiumise their ranges of sprits, wine and other drinks. To take full advantage, businesses need to understand what motivates people to visit their locals: nearly half (46%) are influenced by convenience and location, but habitual visits (31%), quality of service (26%) and ambience (25%) are all important too.
5 New digital paths to purchase
One of the most notable side-effects of COVID-19 in hospitality has been the impetus it has given to the take-up of technology by businesses. During lockdown, nearly three quarters (72%) of business leaders said tech would be important or fundamental to their reopening plans, and many pubs and bars have successfully rolled out apps, QR codes and other digital solutions that make it easier for people to browse drinks, order and pay online.
Tech has also made it much easier for consumers to plan their visits to pubs and bars. Well over a quarter (29%) of consumers are now more likely to pre-book tables for drinks than they were before COVID-19—which gives drinks suppliers and operators some great opportunities to sell in advance and influence people's buying decisions.
It is clear that while some parts of the On Premise are still finding their feet after the turmoil of the last 18 months, many pubs and bars are enjoying the steady release of pet-up demand and adapting very well to challenges and major consumer trends. The months since reopening have reminded us that pubs and bars remain integral parts of people's everyday lives, and are very good places for drinks brands to engage consumers and build loyalty.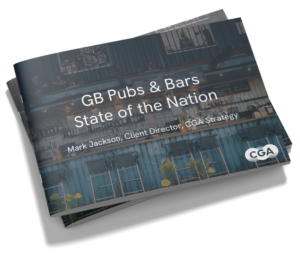 For more about CGA's research sources and expert insights and how they can help drinks suppliers and operators establish successful sales and marketing strategies, visit www.cgastrategy.com and email mark.jackson@cgastrategy.com.