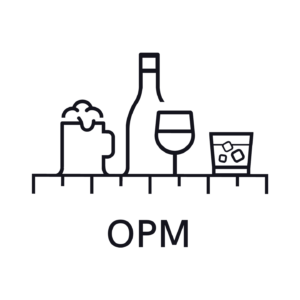 OPM is the only fully projected, extensively validated, measure of beverage alcohol performance in the American On Premise. Used to track share and trends by all the leading beverage suppliers, OPM is the most robust view of sales performance for bars and restaurants ever produced in the US.
The latest 52-week period of CGA's OPM data (to 04/22/2023), reveals the Whiskey category is the bestselling spirits category in the US On Premise. Meanwhile, Tequila experiences the biggest growth in share against other top mega-categories in the channel, and Vodka remains a top contender, with unflavored types driving growth.
Whiskey on top
Whiskey is the bestselling spirits category in the US On Premise, increasing steadily in both share and trend (+0.1pp). Tequila however has seen exponential growth in the market (+0.8pp), overtaking Whiskey and Vodka's (-0.3pp) share gain in the same period and closing the gap against Vodka.
Tequila in growth and unflavoured Vodka remains in demand
Within the market, all types of Tequila are in growth, attributing to the growing popularity of the category. Mezcal Tequila type has experienced the most notable growth (+26.6%), with Reposado (+16.0%) and While/Silver (+7.3%) types also demonstrating significant performance.
Exploring the Vodka sub-category, unflavored Vodka remains the most demanded Vodka type, with +2.1% growth, compared to more negatively performing flavoured Vodka (-3.3%), which withholds the category from further growth.
Battle of the States
Despite Tequila's recent advances in growth and share in the On Premise, Vodka still holds favor among most states.
Across key East-coast states notably, Vodka's volume share tops that of Tequila including NY (6.6%), PA (3.8%), IL (4.6%), NC (1.9%) and FL (11.9%). However, Tequila holds strong growth and outsold Vodka in several states including CO (3.2%), CA (10.4%), GA (2.2%) and LA (1.9%).
Matthew Crompton, Regional Director – North America, said: "There are significant differences in the share growth across these key categories and notable performance differences within certain states across the US. CGA's OPM data can help identify share trends over time periods and provide a comprehensive view of how categories are evolving on a 4-weekly, quarterly, or annual basis. Suppliers and manufacturers can easily assess market-level execution, identify opportunities or threats, and optimize category and channel strategies for success."
Following a recent enhancement, CGA's OPM now includes performance tracking in 15 individual US states, a total of 19 DMAs, measurement across four sub-channels (casual dining, fine dining, bars and nightclubs), and tracking of small, premium brands on an ongoing basis. Alongside these updates, OPM also tracks 9L EQ, total distribution points, and price to ensure brands can understand both brand and category growth drivers, assess market-level execution, and identify opportunities and threats.
For further details on CGA's On Premise Measurement solutions, along with support in understanding trends at category, segment, and brand level within the On Premise, contact Matthew Crompton at Matthew.Crompton@nielseniq.com or visit https://cgastrategy.com/unlock-the-potential-of-opm/.