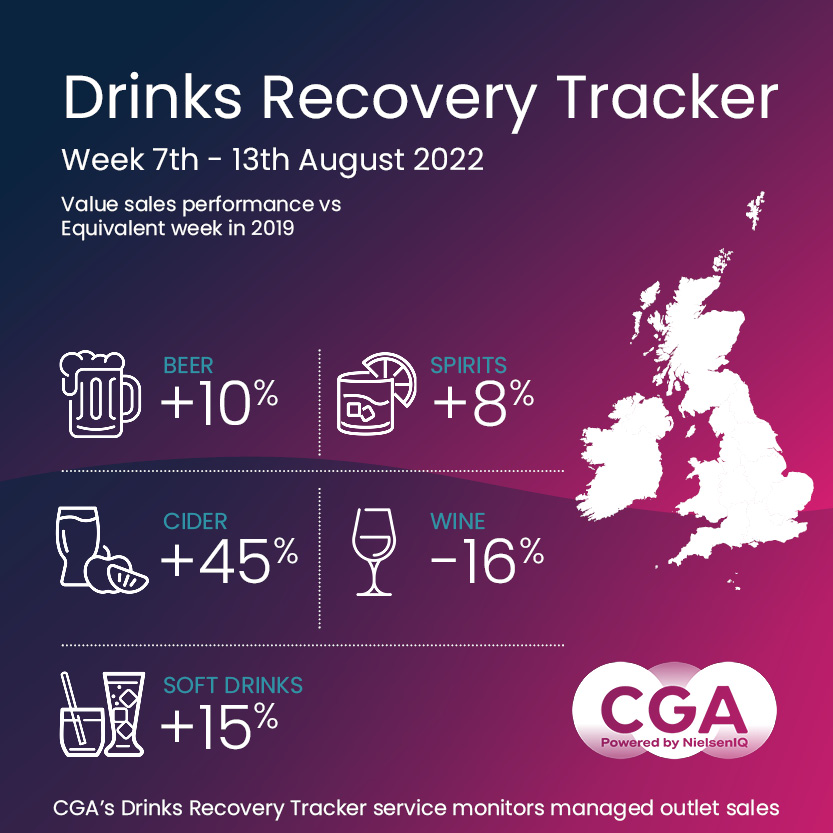 CGA by NielsenIQ's Drinks Recovery Tracker shows that average sales by value in managed venues across the seven days to Saturday (13 August) were +9% ahead of the same week in 2019. In addition, Year-On-Year performance ran at +13% at a total drinks level, although this is an inflated figure, bearing in mind that weekly performance in 2021 was down by -5% on pre-COVID levels.
It's a sturdy weekly performance, and one that operators are hoping can continue to be repeated at this level, in order to get close to record-breaking inflation rates and rising costs.
Six of the seven days were in 2022-on-2019 growth: Sunday started the week at +9%, with Monday delivering an impressive +21%. Tuesday then dipped slightly to +14%, before Wednesday ramped back up, with the strongest performance of the week at +24%. Thursday dropped to just +4%, which was likely due to A-level results falling on this day in 2019. But Friday welcomed the weekend at +12%. Saturday closed the week on a disappointing -2%. Despite continued searing weather, comparison to the first full day of Premier League fixtures in 2019 potentially accounted for the deficit.
Cider continued to dominate in the hot weather, with a huge +45% uplift vs 2019. Softs also generated +15% growth. Additionally, beer had a good week at +10%. But Spirits only reached +8%. This was impacted by Thursday in particular, with a -16% hit to the category due to the comparison vs A-level results day in 2019. And wine continued to bring up the rear, dropping to -19%, which is the worst result in months.
Looking ahead to the following week, Sunday 14th bounced back to +15%, defying the Saturday dip. Cider was +54% and Spirits catapulted to +44%, contributing to an overall robust result before temperatures started to cool. But, A-level results are expected to underpin sales on Thursday and deliver strongly in the Spirits category.
Jonathan Jones

Jonathan Jones, CGA by NielsenIQ's managing director, UK and Ireland said, "The effects of the second heatwave vs much cooler conditions in 2019 were positive on every day of the week except Saturday. Consumers flocked to beer gardens and terraces to enjoy temperatures that were much more enjoyable than the blistering heatwave we experienced in July. As the spectre of the cost-of-living crisis continues to escalate and inflation rates shoot up to a 40-year high, it's welcome news for the On Premise."
CGA's Drinks Recovery Tracker monitors managed outlet sales of the drinking-out market, providing category, supplier and brand rate of sale performance versus pre-COVID-19 sales. Suppliers and operators that want to track the recovery of drinks sales, benchmark performance or identify changes in trends and consumer preferences should contact jonathan.jones@cgastrategy.com.