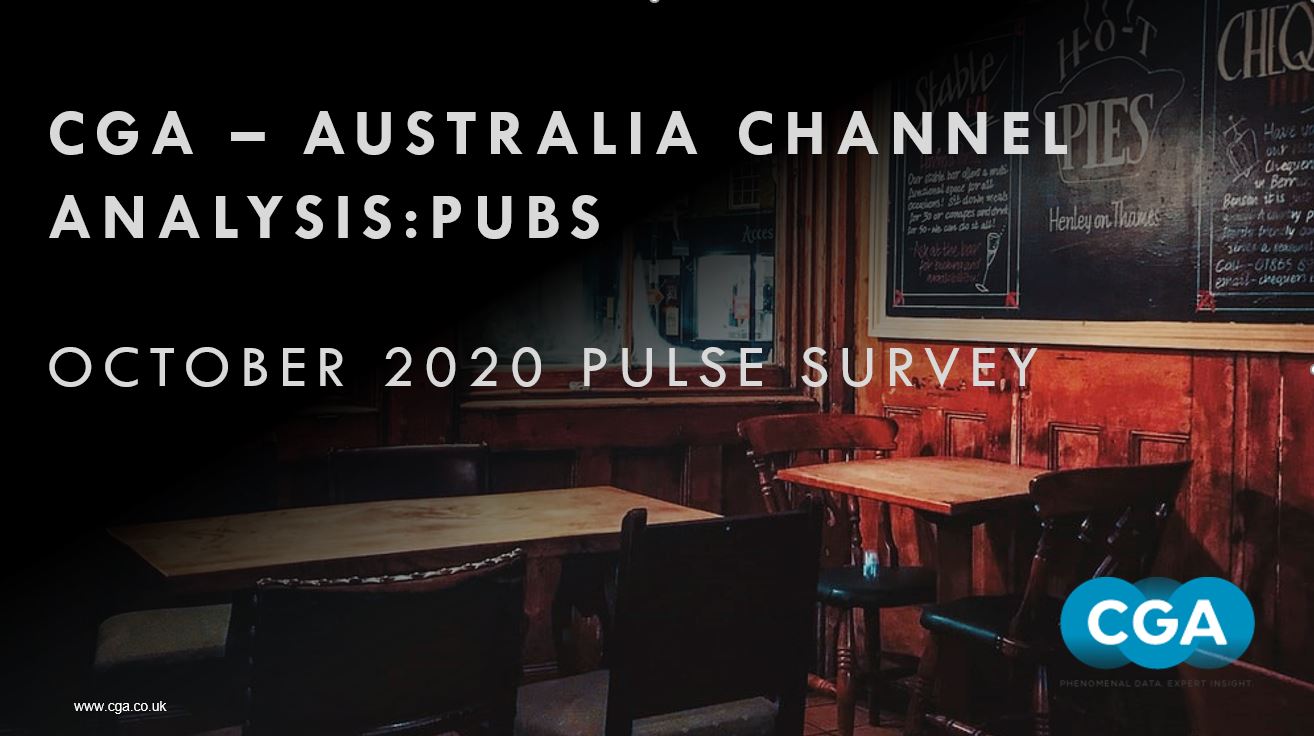 Pub-goers in Australia are returning post-lockdown, with an increased desire to visit local venues but also a yearning to experiment and treat themselves.
CGA's latest consumer survey of the Australian market also uncovers the concerns that are preventing some consumers from going back to pubs after lockdown, while showing what can be done to encourage first-time and repeat visits and drive spend.
The free Pub Report, which is available to be downloaded, shows that people are eager to get back into pubs. Around a quarter of consumers say they have visited pubs at least weekly since they reopened, and there are signs that regular pub-goers are returning particularly fast. Nearly two thirds (63%) of those who visited pubs weekly before COVID-19 restrictions now do so with the same frequency again.
Middle-aged adults have led the return to the on-premise. More than two thirds (70%) of 35 to 54 year-olds say they feel confident about visiting pubs, bars and restaurants since reopening—a figure that is 15 percentage points higher than Australia's all-consumer average.
With many consumers reluctant to travel far and keen to support nearby businesses, CGA's report identifies a major shift towards local pubs and drinks brands. Before lockdown, 56% of 35 to 54-year olds visited pubs, bars and restaurants near to where they live weekly—but that figure has now risen to 67%. Two in five (43%) consumers say it is more important to them that their drink is Australian than it was prior to COVID-19.
Our research around the world consistently shows how the pandemic has led consumers to stay close to home when they eat and drink out," says CGA's Managing Director EMEA & APAC Graeme Loudon. "This makes it important for retailers and suppliers to focus range and marketing strategies on local preferences, and brands that can emphasise their community connections have a great chance to win the spend of the valuable 35 to 54 year-old age group in particular."
The insight highlights consumers' new emphasis on maximising occasions and treating themselves. Among consumers who have visited pubs weekly since reopening, two in five have chosen more expensive drinks, while more than half (56%) say they are very likely to upgrade their drinks to a higher quality option—10 percentage points higher than before COVID.
Another post-lockdown trend identified by CGA in key markets worldwide has been a desire to experiment with new drinks. Just under a quarter of consumers who have visited pubs weekly say they have been more experimental with their drinks choices, and a quarter have changed the brands they chose to drink—12 percentage points higher than the average consumer.
Beer shows resilience in pubs
Despite these shifts, beer has remained the most resilient category since the end of lockdown. Only 8% of weekly pub-goers say they have been drinking beer less frequently—significantly lower than those who have cut their purchases of wine (16%) and spirits (15%). This reflects a big change in the way people use pubs, away from celebratory and late-night occasions in favour of low-key visits in small groups.
After so long in lockdown, it's no surprise that consumers are keen to treat themselves and try new drinks," says Graeme Loudon. "Retailers and suppliers need to respond to the increased demand for premium brands and fresh cocktail combinations, while ensuring that beer selections meet the needs of people who are returning to pubs for more relaxed drinking and seeking the familiarity of trusted brands."
As well as highlighting the changing habits of returning drinkers, CGA's research identifies the barriers stopping the rest of the population from revisiting pubs. It shows that reassuring hesitant and safety-conscious consumers will be crucial to building footfall.
It's very clear that the COVID-19 has altered the mindsets of consumers in the on-premise," says Loudon. "Understanding both the fast-changing preferences of returning drinkers and the hesitations of those who haven't yet been back is going to be absolutely vital, and CGA's research has a pivotal contribution to make. The months ahead are likely to be challenging, but staying attuned to people's needs and wants will put operators and suppliers in good shape to succeed during the remainder of the pandemic and beyond."
CGA's 'Consumer Pulse' research gathered views from 500 Australian consumers in October 2020. As the on-premise continues to reopen across Australia, CGA is preparing further research to support suppliers as they strategically navigate the ongoing recovery phase. For more details, email CGA Managing Director, EMEA & APAC Graeme Loudon at graeme.loudon@cga.co.uk