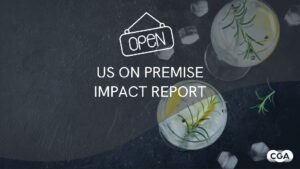 The report found that a third of consumers are planning on visiting the On Premise to celebrate Labor Day. While a range of venues are bound to be popular with consumers over the long weekend, Independently owned restaurants (30%), Sports bars (30%) or Casual dining chains (30%) come out on top.  
On Labor Day Monday, 19% of US consumers plan to visit the On Premise during breakfast, 23% for brunch, 35% for lunch, with visitation dipping slightly for mid-afternoon (32%). But the most popular day parts are expected to be from Happy hour (37%) to Early evening, where 41% said they'll be visiting between 5pm-8pm.   
Brunch is growing in popularity as a daypart for consumers to visit the On Premise, and Labor Day looks to be a significant opportunity for this occasion as consumers blend both drinking and dining to celebrate the long weekend. 
Beer, unsurprisingly is the most common drink choice when visiting the On Premise with just under half of consumers choosing this over Whiskey (29%), Vodka (27%)  Cocktails (25%) and Tequila (23%).  
In addition to these alcoholic beverages, soft drink consumption will remain prominent with 35% of consumers making this their drink of choice. From a recent report we can see soft drinks are a popular choice on the On Premise  – even on days more typically associated with alcoholic serves.  
The latest Consumer Pulse report also highlights how the channel influences consumers' desire to try new drink choices and the impact On Premise visits can have on consumers' purchasing behaviors for at-home consumption, particularly for more premium brands. 
Matthew Crompton, CGA Regional Director – North America, said "Ahead of the Labor Day long weekend, it's clear that the On Premise is performing strongly and is a key part of consumers' lives. Two thirds of consumers agree they're excited for future visits to the channel, with over 3 in 5 trying some of their favorite drinks for the first time in bars and restaurants – underlining how important the On Premise is in driving trial and consumption of drinks brands."  
The Consumer On Premise Impact Report is a consumer research report tracking and reflecting on how consumers currently feel about the On Premise, and how the sector can position its offering to increase visitation. The latest On Premise Impact Report by CGA, along with other special reports issued over the past several weeks, can be found here.  
For more information on CGA's consumer research, please contact Matthew Crompton at Matthew.Crompton@cgastrategy.com