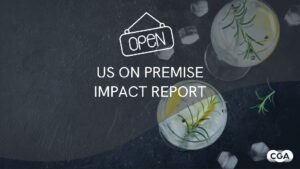 In the last 3 months, data from the latest US On Premise Consumer Impact report revealed that overall consumers are not cutting back on their visits and spend in the On Premise, despite some concerns around inflationary pressures and cost of living increases. 
In fact, 37% of consumers are going out more often than usual, while 39% of consumers have been going out the same as usual, with only 10% going out slightly less than usual. Consumers have also reported positive experiences during their visits over the last 3 months, with 87% have been very satisfied/satisfied with the quality of their overall experience.  
Across age groups, there are some clear differences in visitation and spending behaviors. While some segments have been spending more due to food and drink increases, younger consumers (aged 21-34) stated their main reasons for spending more are because they've been treating themselves (39%), celebrating special occasions (30%), and choosing premium drinks when in the On Premise (28%). 
For operators and drink suppliers, understanding the behaviors of these different consumer segments will be key in driving both footfall and spend in the On Premise. With the channel acting as an essential part of many consumers' lives, and crucial to drink trial and experimentation, targeting the right segment with the right messaging will help build brand awareness and loyalty and ultimately drive sales. 
When asked about future visitation, 37% of US consumers expect to visit the same amount while nearly a third (30%) expect to visit more. Once again, younger consumers demonstrate their value in the On Premise, with 43% of 21-34 year olds expecting to visit more during the rest of the year.   
Matthew Crompton, CGA regional director – North America, said: "The vast majority of US consumers are either planning to visit the On Premise the same amount as usual, or even more often – with a large proportion spending more on their visits. Although this increased spend is driven to some extent by food and drink prices increasing, younger consumers are still looking to visit for treat-led and special occasions. This highlights the importance of understanding how behaviors across different consumer segments will differ, and demonstrates that there are significant opportunities to capitalize on occasion type with more premium offerings."  
The Consumer On Premise Impact Report is a consumer research report tracking and reflecting on how consumers currently feel about the On Premise, and how the sector can position its offering to increase visitation. The latest On Premise Impact Report by CGA, along with other special reports issued over the past several weeks, can be found here.  
For more information on CGA's consumer research, and how it can help beverage suppliers understand where and how to reach target consumers, please contact Matthew Crompton at Matthew.Crompton@cgastrategy.com