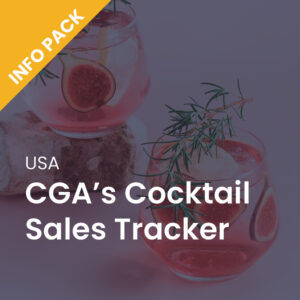 Despite Q2 2023 seeing a dip in velocity versus this time last year, the cocktail category has performed comparably to previous quarters, with the average price and check value remaining strong.
Consistency is also evident amongst the top performing cocktails for value velocity, with Margarita, Moscow Mule , Martini , Mojito , and Espresso Martini topping the table.
But it's a different picture when analyzing the data by rank change versus 2022. The biggest winners include the Spritz, Espresso Martini, Julep, Tequilla Sunrise, and Gin Fizz.
While the classic Margarita continues to perform strongly, other cocktails are faring notably well over all metrics. For example, Espresso Martini continues to increase in popularity, performing well thanks to high average prices and check values, and gaining a place in the top 10 over each quarter for value velocity. In addition, the Spritz is performing well in the latest quarter, jumping into the top 10 for the first time in the history of the tracker, thanks to an increase quantity sold.
Driven by strong performances of Margaritas and Tequilla Sunrises, Tequila-based cocktails remain the most popular, pulling further away from Vodka-based cocktails such as Bloody Marys and Cosmopolitans as the year has gone on. Although a solid performance by Espresso Martini is clearly bucking this downward trajectory. Meanwhile, Whiskey-based cocktails have also lost share over the year, losing out to Gin and Rum-based cocktails.
Despite seeing a dip in velocity compared to the same period last year,  the cocktail has performed comparably to previous quarters. As a result, it continues to be a compelling proposition to brands and suppliers seeking to leverage the most best-loved cocktails and also the spirits that are enjoying current and/or seasonal favor.
Matthew Crompton, regional director – North America said: "The latest tracker highlights the movers and shakers of the cocktail market, and how consumer preferences in the Spirit category influences the drinks choices of US consumers. Additionally, there's the seasonality factor, which is reflected in the success of the Spritz in the warmer months. When combining and analyzing the key metrics, brands and suppliers can equip themselves to build a winning cocktail strategy in the On Premise."
CGA's Quarterly Sales Tracker is available to purchase now. Delivered as a quarterly report, the tracker is powered by CGA's BeverageTrak, and ensures suppliers can understand the evolving cocktail sales dynamics over time and maintain a successful and evolving cocktail strategy.
For more information on the Cocktail Sales Tracker, click here, or contact Matthew Crompton at Matthew.Crompton@cgastrategy.com