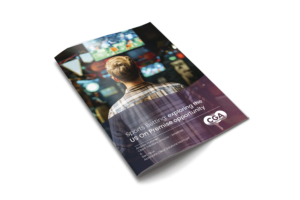 CGA's latest report 'Sports Betting: exploring the US On Premise opportunity' combines consumer and sales data to explore the behavioral trends of consumers who take part in sports betting across the US On Premise and how suppliers and operators can capitalize on these key sporting occasions.
Sports betting proves its appeal to a range of consumers visiting the On Premise with 52% of males and 34% of females said they would engage with Sports betting, showing an appeal to both genders. And over half of both male and females admitted to watching sports in bars and restaurants – providing an ample consumer base to target that is already interested in televised sports.
Mobile sports betting can increase consumer engagement in venues. Two thirds of consumers are likely to stay at venues longer when betting on sports, more so indicated by younger age groups. Furthermore, participation is also likely to drive higher consumption – stated by 43% of 21–34-year-olds, 41% of 35–54-year-olds and 33% of 55+, in addition to spending more.
NFL Football season is full swing, and CGA research reveals this is the most popular sport that consumers across all ages and genders say they would/have participated in Sports Betting while watching. With only 1% of consumers saying they would prefer to bet at home, the appeal of betting as a social occasion is clear – with the opportunity for suppliers and venues to capitalize on Sport Betting occasions within the On Premise.
Andrew Hummel, Client Solutions Director – Americas said "It's clear there are noticeable consumer behavioral differences in the On Premise where sports betting is already legal, and with more states following suit there are significant opportunities for operators and suppliers to consider around key sporting occasions. CGA's research highlights the importance of understanding variances amongst key demographics – essential for venues looking to boost check value and visitation levels across different sporting occasions."
To read more – download the report here.
For more insights into Sports betting opportunities, CGA's Sports Betting Report provides an in-depth look into consumer groups, drink types, channels and key Sports occasions within the US On Premise, get in touch with Andrew Hummel at Andrew.hummel@cgastrategy.com.