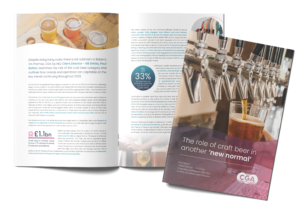 As the COVID-19 pandemic finally began to subside at the start of 2022, the On Premise collectively began to see the light at the end of the tunnel. Despite the fact that costs had been mounting up for months as outlets were unable to open fully (or at all) for large periods of 2021, most licensees were looking forward to a year where consumers would be back with a bang to help them to recoup losses.
But another crisis, in the form of cost of living pressures on consumers and businesses, sent confidence crashing as the year was only a few months old. CGA's business leaders survey, which interviews operators in the On Premise on a quarterly basis, saw confidence in the market drop from 65% in February to 23% in June. Higher costs were cited by almost all of those interviewed, with rising inflation and energy bills called out as the biggest issues. Many businesses began to worry if consumers would still turn up to their pub, bar or restaurant, or if they'd even be able to afford to keep the lights on. Tragically, over 13,000 outlets closed between March 2020 and December 2022, with the rate of closures continuing to accelerate.
But despite economic and social pressures that weigh heavily on hospitality, there are still plenty of reasons to be optimistic in the On Premise. But just how can craft beer see through the gloom and make the most of the opportunity in yet another "new normal"?
Already this year, performance in January has been better than expected as consumers continue to prioritise visits that are vital to their lives. Craft can continue to play a huge role for consumers looking for the high-quality option in beer and add to an overall experience that they will be unable to recreate in their living rooms. Independent brewers need to ensure though that their brands are ticking all the boxes around quality, taste, range and branding to make sure they remain the best beer options to suit the best experience."
For more insights into the category, download the report here.
To learn more about optimising On Premise strategies with sales and consumer insights and unlock growth in the craft beer category, email Paul Bolton, Client Director, GB Drinks at Paul.Bolton@cgastrategy.com.