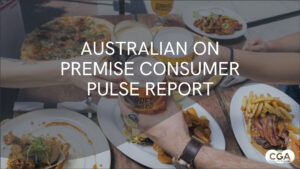 Over the past month, food-led visits remained at consistent levels to February, with drink-led occasions seeing a slight incline of +2pp and showing a positive outlook as this uptick is set to continue going forward.
The most recent Australia Consumer Pulse Report showed that a high percentage of consumers (70%) either watched or planned to watch the opening rounds of the NRL, AFL, or Super Rugby. The On Premise is a key channel for consumers watching and planning to watch the games, as 1 in 3 stating they visited or will visit the On Premise to watch the opening rounds of the AFL, NRL or Super Rugby – with the AFL being the most popular, watched live by almost half of consumers.
Unsurprisingly, Beer was the category winner by consumers when out (66%) having planned to/consumed whist watching the game's opening rounds, +32 percentage points ahead of the next most popular drink; Soft drinks (34%), and then Spirits (31%), with ready to drink alcohol (26%) just beating Cocktails (24%).
It's evident that watching sports plays a part in influencing consumer spending decisions in the On Premise, as 33% state they ordered a larger number of drinks during the games. However, almost half state they ordered/will order more value drinks – highlighting that consumers are willing to purchase a higher number of drinks while perhaps making more value conscious decisions.
This highlights trade-up opportunities for suppliers and operators by engaging those consumer segments who are most likely to purchase more premium offerings when watching sports, and also demonstrating a suitable pricing ladder to appeal to those who are also likely to experiment and can be persuaded to trade up from value drinks options.
James Phillips, Client Solutions Director – APAC said "Understanding the various consumer motivations and drivers to drinks choice and knowing how to tap into their preferences is crucial for strategic marketing and activation planning around key sporting calendars. The report is fundamental for understanding consumer habits for On Premise occasions, and combined with CGA's upcoming On Premise Sports Report, will provide essential insights into the sports viewer, and how to plan for future sporting occasions."
Download the latest Australia Consumer Pulse Report here.
CGA by NIQ's upcoming On Premise Sports Report delves into the typical On Premise live sports viewer, reinforcing why suppliers and operators should be targeting activity around sporting occasions, helping to identify the key sporting events to activate around, and how a well-defined live sport occasion strategy can pay dividends. Download more information on the On Premise Sports Report here.
To learn more about CGA by NIQ's consumer research and market measurement services across both Australia and New Zealand, please contact James Phillips at james.phillips@nielseniq.com.