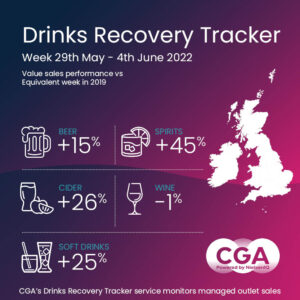 CGA by NielsenIQ latest Drinks Recovery Tracker shows average sales by value in Britain's managed venues in the seven days to Saturday (4 June) were 21% up on the same week in 2019. However, the figure is inflated by the effect of the unique Jubilee period, which included bank holidays on Thursday and Friday, and the absence of a holiday in the comparative week three years ago.
Spirits sales soared by 45% on the same week three years ago—extending a pattern that has seen it outperform all other categories by some distance in 2022. Beer sales were up by 15% and cider sales by 26%, as many consumers celebrated the Jubilee outside in decent weather. Soft drinks were up 25%, but wine sales were 1% below the level of 2019.
Across the week, England's sales uplift of 21% was ahead of Scotland at 16%—though Wales recorded the biggest upswing of all at 43%. Britain-wide, drinks sales shot up by 70% on Wednesday and 55% on Thursday, but then fell by 9% on Saturday as consumers switched their Jubilee activities to parties at home or in their communities.
"Jubilee week gave out-of-home drinks sales a very welcome lift, but competition from other celebrations meant the impact was short-lived," says Jonathan Jones, CGA's managing director, UK and Ireland. "It also highlighted two of the big On Premise category trends of 2022: the remarkable success of spirits and cocktails and the ongoing difficulties in the wine market."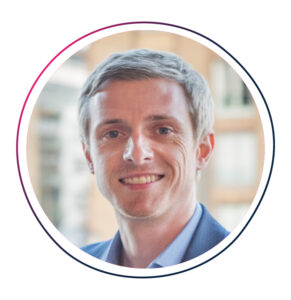 CGA's Drinks Recovery Tracker monitors managed outlet sales as the drinking-out market continues to recover, providing category, supplier and brand rate of sale performance versus pre-COVID-19 sales. Suppliers and operators that want to track the recovery of drinks sales, benchmark performance or identify changes in trends and consumer preferences should contact jonathan.jones@cgastrategy.com.