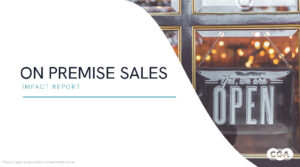 Celebrated across America, Independence Day (also known as the 4th July), is approaching and people across the country will start to make preparations for how they're going to celebrate the day. 4th July is primarily known as an Off Premise event, however data gathered from CGA's BeverageTrak solution suggests that there is a clear impact on On Premise alcohol sales.
CGA's BeverageTrak service combines powerful datasets to provide an ultra-granular view of how beer, wine and spirits are being ordered and distributed across the USA, offering an unprecedented view of the market with unparalleled transparency.
As BBQs are being fired up, and people across the country start travelling to spend the day with friends and family, CGA's analysis examines last year's trends and what the sector can expect in this coming Independence Day.
In 2021, July 4th fell on a Sunday, and saw a decrease in value velocity across key states*, with the average outlet down -4% for Beer and -20% for Spirits compared to previous week's average Sunday sales**. This was mainly driven by check value, with consumers opting to spend their money stocking up at home rather than eating/drinking out. Despite the overall drop in velocity, Hard Seltzers were up +25%, Cordials up +21% and Gin up +17%.
However, when day turned to night (10pm to 6am) both Beer value velocity was up by +39% and Spirits by +49% on the Sunday vs average**. In fact, the majority of categories saw an uplift – led by Vodka (+63%), Hard Seltzers (+59%) and Tequila (+42%). This growth was largely driven by traffic, with people taking advantage of the Monday off and venturing out that bit later.
As Monday July 5th was observed as a federal holiday, there were significant value velocity trends vs previous weeks* with Beer +34% and Spirits +19%, both up into the double digits, again driven by a significant difference in traffic (+38%, +20%). Leading the way within Beer was Imported (+25%) and Craft Beers (+24%) with Spirits up +22%, and Cordials, Tequila and Rum all up +15%. On the Monday, mid-day (11am-3pm) and mid-afternoon (3pm – 6pm) were the best performing dayparts, with Beer and Spirits experiencing value velocities at least +33% higher than the average across previous weeks*, it's fair to say consumers were making the most of the day off.
While all Key States experienced double-digit velocity increases from the average Monday*, California led the way with a +47% increase in Beer velocity and a +26% increase in Spirits. Illinois also was one of the top performers, with Spirits and Beer both up over a quarter, while Texas and Florida saw less of an uplift, with Spirits up +13% and Beer up +24%. Across the board this was driven largely by traffic, with California, Illinois and New York having seen traffic up at least +26% across both beer and Spirits on the Monday, and Californian Beer traffic up over +50%.
Matthew Crompton, regional director – North America

Matthew Crompton, Regional Director – North America said, "It's easy to assume 4th July is primarily celebrated Off Premise with friends and family, but last year's data shows the clear uptake in On Premise celebrations and this data could prove incredibly valuable to both operators and suppliers preparing for the day. With key states experiencing different trends, understanding how and why different markets react to key events such as Independence Day is instrumental for suppliers to maximize their market potential."
To learn more about CGA's BeverageTrak solution, and support understanding how occasions can shape your On Premise strategy, contact Matthew Crompton at Matthew.Crompton@cgastrategy.com
*Key States: California, Florida, Illinois, New York, Texas, Colorado, Georgia, New Jersey
** Average of the previous 11 weeks
Source: CGA BeverageTrak data to 7/4/21