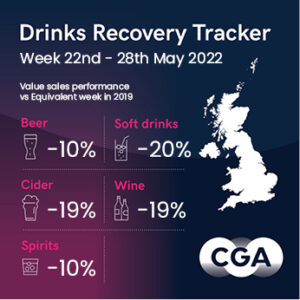 CGA's latest Drinks Recovery Tracker shows average sales by value in Britain's managed venues in the seven days to Saturday (28 May) were 13% behind the same week in 2019—though the figure is skewed by the absence of a Bank Holiday Monday this year. However, positively average value sales were +5% ahead of the previous week's results, and the forthcoming double Bank Holiday ahead of the weekend should help to recover at least some of the sales that were missed last week.
2022-on-2019 comparisons peaked on Tuesday (24 May), when drinks sales were 4% ahead of the same day three years. They were flat on both Friday and Saturday (27 and 28 May), and down on every other day of the week.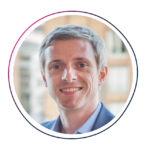 "The Bank Holiday factor makes it difficult to compare sales to pre-COVID levels, but it's clear that general trading is still well short after adjustments for inflation," says Jonathan Jones, CGA's managing director, UK and Ireland.
The Jubilee weekend will hopefully provide the On Premise with some much-needed impetus—though a lot will depend on the weather, which could make all the difference between consumers staying at home or heading out to pubs and bars."
CGA's breakdown of drinks categories shows that the absence of a Bank Holiday meant sales of spirits were 10% down on 2019—the first time they have been in the red since early 2022. Beer (down 10%), cider and wine (both down 19%) and soft drinks (down 20%) were all well behind too.
CGA's Drinks Recovery Tracker monitors managed outlet sales as the drinking-out market continues to recover, providing category, supplier and brand rate of sale performance versus pre-COVID-19 sales. Suppliers and operators that want to track the recovery of drinks sales, benchmark performance or identify changes in trends and consumer preferences should contact jonathan.jones@cgastrategy.com.