The re-opening of the market saw sales of spirits outperform other drinks categories, benefitting from the rising popularity of cocktails and the growth of shots & shooters. However, this has driven a major challenge for Mixers. Simple serves, like the G&T, have been easily reproduced at home throughout the pandemic, and therefore no longer offer the On Premise experience that consumers have been craving.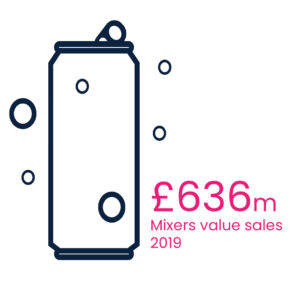 For the last decade, Mixers have expanded and diversified following the Gin boom. Category sales contributed £636 million in value sales in 2019 and outlets now list more Mixer products in the fridge than any other Soft Drink category. Premiumisation of Mixers, the launch of numerous new and creative flavour combinations, and recent innovation beyond traditional Tonics has helped to keep the category fresh and exciting during this time.
However, CGA On Premise Measurement (OPM) shows that the easing of COVID-19 restrictions has not been positive for Mixers, with heavy share losses (-2.8pp) to categories such as Cola & Energy Drinks (+2.1pp & +1.3pp), which have benefitted from an enthusiastic return to high tempo venues, and Juices & Syrups (+0.8pp & +0.6pp), which have been boosted by cocktail-mania. This has left Mixers as the only category to regain less than half of its 2019 value sales in 2021.

The performance of Mixers relies heavily on the popularity of the Gin & Tonic, with Unflavoured Tonic making up 3 in 4 serves within the category. Unfortunately, the end of lockdown appears to have brought Gin's long streak of success to an end. The category has lost -3.4pp of value share of Spirits since reopening, with categories more commonly used in cocktails winning: Liqueurs & Specialities (+5.1pp), Rum (+1.7pp) and Vodka (+0.3pp) . In CGA's latest BrandTrack survey, only 13% of consumers now drink Gin out (vs. 20% in 2019), with Cocktails taking over as the top Spirits category.
Ultimately, simple serves struggle to compete with the 'instagrammability' and the theatre-of-serve that cocktails can offer in the On Premise. These encounters have become even more intrinsic to the On Premise experience as 1 in 5 consumers say they post pictures of their cocktails on social media more since the full reopening of hospitality. Additionally, the expansion of draught cocktails has made the category accessible to a broader range of outlets without needing significant investment in staff mixology training.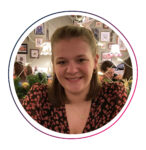 "As the Gin boom ends, Soft Drink suppliers will need to consider where the future of the long mixed drink lies. Expanding portfolios beyond Tonic will be key to success and designing serve strategies that champion emerging categories, like Vodka and Rum, will allow greater flexibility to suppliers as the market evolves," says Beth Bowker, senior client manager at CGA.
CGA's accurate sales, share and trend analysis and in-depth consumer research provide suppliers and operators with the tools to optimise sales and marketing strategies and assortment and pricing tactics. To learn more, please email beth.bowker@cgastrategy.com