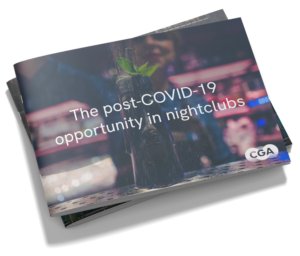 Nightclubs could be set for something of a renaissance as consumers' pent-up demand is released over the final quarter of 2021—but operators and suppliers will need to work together to find the right drinks offer if they are to take full advantage.
CGA's exclusive OPUS research provides detailed insights into consumer behaviour across On premise channels, occasions and categories, as venues and drinks brands seek to maximise loyalty and spend in the post-lockdown markets. It reveals the size of the prize on offer, with more than a fifth (22%) of consumers planning to visit nightclubs more often over the next 12 months than they did in 2019. This is the highest proportion of any On Premise channel, and rises to a third (34%) of 18–34-year-olds—a clear sign that nightclubs' core consumers have sorely missed their visits.
Well over a third (37%) of club users say they are looking forward to making up for lost time there, and nearly half say they visit them weekly—up by eight percentage points from 2018. The sector still faces competition from experience-led events, but this increased frequency suggests that the channel is returning to the fabric of people's nights out.
Understanding the occasions on which people use nightclubs is the first step to winning their spend. OPUS shows their importance as social venues and places to create meaningful memories, with two in five (39%) considering them a great place to reconnect with friends.
Users are strongly motivated by the drinks on offer at nightclubs. They are 17 and 13 percentage points more likely than average to choose a venue based on the range and quality of drinks on offer respectively. They have high expectations too, and with two thirds (65%) of nightclub visitors on high-tempo occasions likely to pay extra for a better quality drink, they are willing to spend freely too.
OPUS also provides clues to the types of drinks nightclub users prefer. Vodka, gin and cocktails remain their main categories of choice, but they are more likely than average to experiment with new flavours or varieties than they are in other types of venues. It makes nightclubs an ideal channel for brands to drive trial and engagement—especially if activations tie into consumers' desires for fun and memorable experiences with friends.
However, it's also important for brand owners and operators alike to recognise that nearly half of consumers tend to know what they will drink as soon as they decide on a venue. This shows the importance of interrupting the path to purchase by influencing drinks choices before consumers even step through the door of a venue. Crafting the right balance of new and familiar brands is going to be a key factor in success in the months ahead.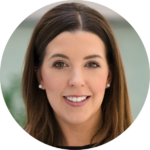 CGA's OPUS research provides in-depth insights into the consumer occasions that take place in On Premise channels. With the ability to deep dive into each drink category, the research can shape successful brand strategies by ensuring suppliers link their brands with the most profitable On Premise opportunities, and help brand owners to tailor sales stories by occasion and channel. To learn more, contact rachel.weller@cgastrategy.com.