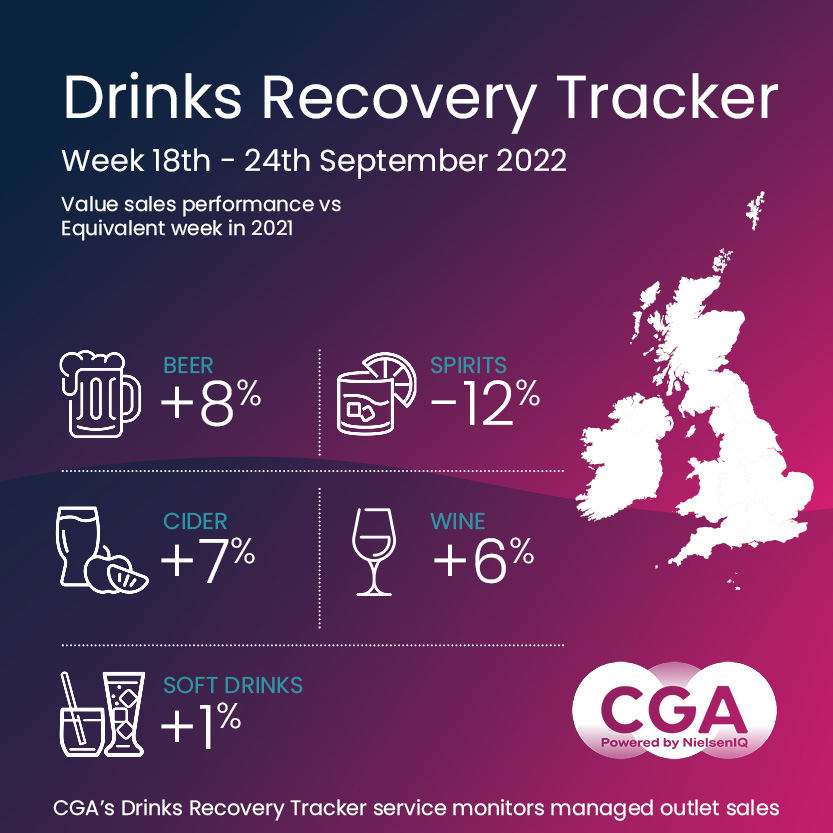 CGA by NielsenIQ's latest Drinks Recovery Tracker shows average sales in managed venues in the seven days to Saturday (24 September) were 1% ahead of the same week last year. They were up by the same margin on the pre-COVID-19 level of September 2019—but high inflation means sales are well down in real terms.
Trading was lifted by the addition of a public holiday for the funeral of Queen Elizabeth II. While some venues closed for the occasion, drinks sales were 34% and 21% up on Sunday and Monday (18 and 19 September) compared to the same days in 2019.
However, there was something of a hangover for the rest of the week, with sales down by between 2% and 13% from Tuesday to Saturday (20 to 24 September). A shift in visits to the previous few days, cooler weather and consumers' growing concerns about costs all contributed to the dip.
It was another good week for the long alcoholic drinks (LAD) category, as beer and cider sales were up by 8% and 7% respectively year-on-year. Wine (up 6%) and soft drinks (up 1%) were also in growth, but spirits were down by 12% from tough comparatives.
"These figures show many consumers chose to spend parts of the weekend of the Queen's funeral in the communal environments of pubs and bars," says Jonathan Jones, CGA's managing director, UK and Ireland. "While it's pleasing to see year-on-year growth, high inflation and mounting concerns about energy and mortgage bills means more government support is clearly going to be needed to mitigate businesses' costs and stimulate consumers' spending."
CGA by NielsenIQ's Drinks Recovery Tracker monitors managed outlet sales as the drinking-out market continues to recover, providing category, supplier and brand rate of sale performance versus pre-COVID-19 sales. Suppliers and operators that want to track the recovery of drinks sales, benchmark performance or identify changes in trends and consumer preferences should contact jonathan.jones@cgastrategy.com