If you would like to read this article in Italian please click here
Se vuoi leggere questo articolo in italiano clicca qui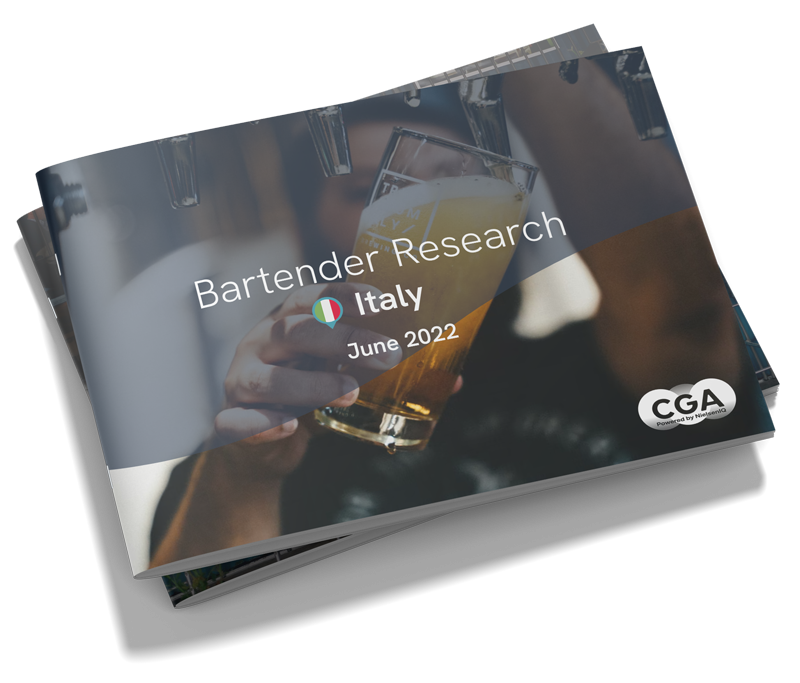 Results from the Italian Bartender Report 2022 produced by CGA by NielsenIQ in partnership with AIBES demonstrates that bartenders are starting to look beyond COVID-19 disruption and are focusing on long-term careers in the hospitality sector.
Satisfaction levels of bartenders in the market are recovering well following the pandemic, with 49% maintaining satisfaction levels and 11% now more satisfied in their roles.  
The viability of bartenders' current roles in hospitality is also positive, with 64% agreeing/strongly agreeing with this and 67% of them are looking optimistically to the future of the industry over the next year.
The Italian economy is bolstered by the hospitality industry and eating and drinking out culture. Research suggests that the long-term prospects of bartenders' career longevity in the sector supports this importance and is a likely reason why there is greater optimism for the Italian market (67%), when compared to other global markets, such as Germany (64%) and Australia (62%).
On average, Italian bartenders stay in the hospitality industry for nine years, while 58% of those surveyed expect to stay in roles for over 10 years. This will be welcome news to drinks suppliers and brands as it presents the opportunity to work with bartenders to build long-lasting brand advocates.
Despite current engagement levels with drinks brands, this more settled outlook bartenders have, makes a pertinent time for suppliers to revitalise bartender relationships. Brands who can do this and support operators and bartenders in this crucial period will give themselves an extra advantage when searching for successful brand growth.
Bartenders and servers are the final touch point of influence in the On Premise. Understanding their needs is extremely important in influencing brand sales. There is a plethora of ways in which drinks suppliers can support bartenders in being the best they can be. These include building better connections with venues and being more present, providing optimised supplier-led training in venues and upskilling bartenders so they can learn new ways of working and career progression.
Bartenders' needs however from supplier advocacy campaigns differ. Considerations of factors such as their length of service and the type of venue they work within mean that such training programmes need to be adapted and optimised going forward in order to build on existing knowledge, deliver excellent service and continue making brand recommendations to consumers.
Graeme Loudon, managing director, EMEA said: "The very fact that bartenders are placing high optimism on long career potential and on the industry reflects enormous amount of commitment. It's an irresistible talent pool for drinks suppliers and manufacturers to tap into, and now is the time for suppliers to support bartenders and hospitality professionals in order to keep brand advocates and really supercharge brand awareness and sales."
The research conducted by global hospitality insights leader also highlights the factors that are most important to retaining bartenders, the current sentiment towards supplier relationships and unique insights into how suppliers can build better relationships in the future.
The collective data reflects that bartenders need support in order for their high levels of optimism about their roles and the industry to be strengthened and upkept. This represents a compelling opportunity for suppliers to take a fresh approach to brand advocacy programmes, to capture buy-in from bartenders and maximise brand growth potential.
CGA's research provides actionable insights into brand advocacy opportunities across the Italian On Premise and global markets to help suppliers understand how brands can benefit from their continued engagement. To learn more about CGA's research capabilities and the bartender research, contact Graeme Loudon at graeme.loudon@cgastrategy.com. 
The Italy Bartender Report 2022 study surveyed 45 bartenders/managers who currently work in the Italian On Premise during 18/04/2022 to 18/06/2022.  
The full report is now available to download here.