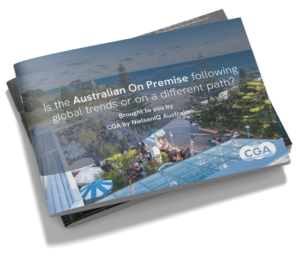 The return of the On Premise around the world
Following the end of lockdowns and restrictions around the world, it's clear that consumers are continuing to prioritise the On Premise – with 84% of global consumer typically visiting the channel, a 3 percentage point increase versus last year. Drink-led occasions in particular have seen growth, with weekly visits increasing 12pp versus pre-COVID-19 levels.
This trend is reflected in the Australian On Premise, with 88% of Australian consumers planning on going out more or as often during the remainder of 2022, with consumers visiting casual dining restaurants, pubs and restaurants more often versus 6 months ago.
Premiumisation vs Polarisation
Globally, consumers' desire for both value and quality has increased since COVID-19, with 35% of consumers stating high quality is more important (+2pp versus 2019), and 37% stating good value (+4pp vs 2019) is more important. 63% of consumers globally state that they are likely to trade up for a 'better quality' drink, highlighting how prevalent the premiumisation trend has become – even in Australia.
53% of Australian consumers were likely to pay extra for a better quality drink when out, when surveyed in CGA's OPUS study – a 6 percentage point increase versus Autumn 2022. However, Australians also tend to prefer good value, with this dichotomy presenting a significant challenge for drinks suppliers in positioning their brands.
Cocktails, No/Low and other emerging categories
In CGA's exclusive Bartender research conducted earlier in the year, cocktails were tipped to be one of the biggest trends – with 59% of bartenders stating they thought cocktails are in the best position to thrive in 2022. This is reinforced with the recent growth in cocktail penetration over the last 6 months in the Australian On Premise. This trend mirrors a global shift towards more experience-led serves, with consumers around the world choosing cocktails – with markets such as the US showing a 50%+ increase in the rate of sale in this category versus 2019.
Aussie bartenders also predicted that this year would see the No/Low alcohol trend take off in the On Premise – but this hasn't translated to a significant uptick in popularity with consumers. Penetration of low/no alcohol alternatives is slightly down versus 6 months earlier in the year (-1pp), however loyal no/low customers are actually drinking more often (September 2022 versus March 2022).
Hard seltzers are one emerging category that has seen consistent growth, booming worldwide – particularly in the US across a variety of formats. The growth of this category in Australia could in part be due to the desire to live a healthier lifestyle, with 'to be healthy' growing in popularity as a reason for choosing hard seltzers as a drink choice in the On Premise.
The Desire for Local
With the decline of high-tempo, late-night occasions, the suburbs have seen an uptick in visitation. This reflects a continuing trend towards the 'importance of local', with 27% of Australian consumers stating it's more important now that their drink is Australian than it was 12 months ago.
Scott Elliott, managing director: APAC, said: "Australia's up there in the top ten in terms of the growth of importance for a brand to be seen as local, to be produced locally for them, and to be perceived as supporting local."
James Phillips, client solutions director: ANZ, agreed: "There's so much focus on sort of precinct areas or CBD areas when it comes to consuming in the On Premise, but your local restaurant with a licence could be opportunity to really grow at the same time."
Click here to download some of the content from CGA's latest presentation with the Drinks Association, or to learn more about CGA's consumer research and market measurement services across both Australia and New Zealand, please contact James Phillips at james.phillips@cgastrategy.com