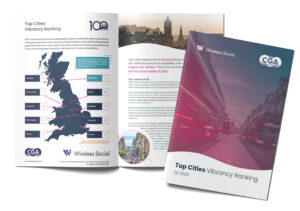 It shows sales in each of Britain's ten biggest cities were higher than the first quarter of 2022, while device check-ins continue to build back towards pre-COVID-19 levels. However, the year-on-year comparisons benefit from weak trading in early 2022, when concerns about the Omicron variant of COVID-19 kept some consumers away from city venues. Growth has also been impacted by high inflation, which means that trading for many operators remains well behind last year's levels in real terms.
The 'Top Cities' report combines sales data from CGA by NIQ with check-in data from Wireless Social to produce a 'vibrancy' ranking of the ten cities in the first quarter. It is led by Edinburgh, where sales and log-ins have surged back since the end of COVID-19 restrictions. London, which was hit hard by COVID-19 lockdowns, soars to second on the list after welcoming back many office workers and visitors over the first quarter.
Elsewhere on the 'Top Cities' rankings, third-placed Sheffield is the best performing city in the north of England, while Glasgow in fourth adds to a strong quarter for Scotland. At the other end of the table are Leeds, Birmingham and Liverpool, where the cost of living crisis and rail strikes have put the brakes on the post-COVID-19 recovery in footfall. See below for the full list of cities.
CGA client director Chris Jeffrey said: "This research shows that consumers remain very keen to visit city centre pubs, bars and restaurants despite the squeeze on their discretionary spending. While high inflation continues to make trading conditions difficult, hospitality is a resilient and dynamic sector that is helping to breathe life back into cities' economies after the turmoil of the pandemic. It deserves targeted and sustained support from government to sustain hard-working businesses through the costs crisis."
Julian Ross, founder and CEO of Wireless Social, said: "Hospitality is an incredibly resilient industry. Despite facing up to many significant challenges over the last three years, the sector is continuing to fight back. Footfall and sales remain strong in major hubs all over the UK, especially across competitive socialising and more experience-led concepts that have emerged and blossomed since the pandemic. Consumers are looking to get as much for their money as possible, and that is what these operators are capitalising on.
"However, the market is still fraught with economic obstacles that are continuing to pose a serious threat to the survival of many businesses. Soaring energy bills, grossly inflated supply chain costs, an ongoing labour crisis, and a business rates system that is simply not fit for purpose, are just some of these issues, and it's absolutely vital that the sector continues to receive as much support as it can get. Without the requisite support, the road ahead is set to be extremely rocky for our sector."
Britain's 10 biggest cities, ranked by vibrancy: Q1 of 2023
1 Edinburgh
2 London
3 Sheffield
4 Glasgow
5 Bristol
6 Leicester
7 Manchester
8 Liverpool
9 Birmingham
10 Leeds
The quarterly 'Top Cities: Vibrancy Ranking' reports are based on a powerful combination of sales data from CGA's Managed Volume Pool of more than 8,000 pubs, bars and restaurants, and Wireless Social's guest data gathered from more than one million log-ins. It provides the most accurate assessment yet of the vibrancy of Britain's key city markets for eating and drinking out.
To learn more about CGA's services, become a data partner or hear about wider strategic capabilities to support businesses, including sales benchmarking and location planning, please contact hoaf@cgatstrategy.com.
Wireless Social are the leaders in guest wi-fi for the hospitality industry, and are able to build valuable data insights on usage, footfall and dwell times across the sector. For more information about its data insight and guest wi-fi solutions for businesses, please contact hello@wireless-social.com.