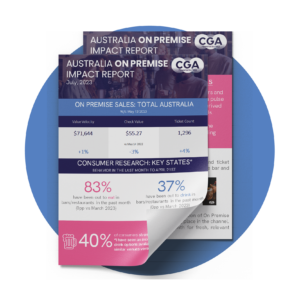 Almost 9 in 10 On Premise consumers have holiday plans in the next 12 months, and over half of these planning domestic staycations. The report shows how holidaymakers offer huge opportunity for the Australian On Premise.
Beach holidays (45%), and city breaks (28%), are the most popular holiday type amongst consumers, with Hotel's being the number 1 accommodation type (56%), offering valuable opportunity for hotels in the vicinity of these key holiday  types.
On Premise channels located around these popular holiday types should also prepare for the influx of consumers, as the report revealed 3 in 5 Australian holidaymakers plan on going out to eat and drink whilst away, with Casual dining restaurants (77%), Pubs (52%), and the accommodation they're staying in (49%), being the most popular channels. This highlights how operators should be strategically targeting holidaymakers planning on visiting areas surrounding their venues.
Over half of consumers admit to experimenting more with food and drink options when on holiday, with 45% spending more, and 39% ordering more. Encouraging consumers to experiment with new and different products whilst away could result in consumers wanting to relive the holiday experience whilst at home, and in part, influence to purchase a product beyond their holiday.
The findings of the report reflect how operators, brands and suppliers can optimise sales and visitation frequency by best understanding how consumers plan to spend their holiday. Recognising the various behavioural differences consumers have whilst on holiday, compared to when they're at home, can help in preparing to supply for the demand of the holidaymakers.
James Phillips, Client Solutions Director – ANZ said: "It's crucial for suppliers to equip themselves with a bigger picture understanding of what drives the Australian holidaymaker, which hotels and venues they're most likely to visit, and the products they're most likely to engage with while they're in holiday mode. The report clearly shows the difference in On Premise behaviours when visiting hospitality venues on holiday, compared to at home, reiterating the importance of pre-empting these differences, and presenting consumers with carefully considered options when they're at their most receptive".

 
The Pulse+ Reports are now available as part of a new subscription. The Pulse+ Reports, are set to provide a full-view of the Australian On Premise, exploring not only consumer insights, but will soon provide ALL NEW sales metrics, as part of the monthly reporting. Delivering sales velocity and ticket count trends and exploring specific states to measure bar and restaurant sales performance, the reports are set to provide a comprehensive view of the Australian On Premise.
To find out more about the Australian On Premise Pulse+ Reports, click here, or download a snapshot of the latest Pulse+ Report here.
Contact james.phillips@nielseniq.com to find out how you can access the full subscription, and more about CGA by NIQ's On Premise solutions to benefit your business.