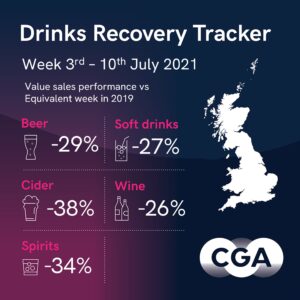 England's final against Italy boosted drinks sales by 33% on Sunday (11 July), with a gulf in figures between venues screening the game (up 64%) and those not (down 5%). It followed an 18% increase in drinks sales last Wednesday (7 July), when England played Denmark in the Euros semi-final.  
While the Euros tournament has given some venues a much-needed lift, social distancing, table service and other restrictions have held the sales increase well below what would have been expected before COVID. The limitations also made it another tough week for drinking out in the On Premise, with average drinks sales in the week to Saturday 10 July down by 30% on the same week in 2019. 
The Euros effect meant pubs (down 27%) fared slightly better than restaurants (down 36%), though mixed weather is likely to have impacted both sectors. Sales in bars were down by half (50%) on 2019—their worst week since indoor reopening, and a reminder of the heavy impact of trading restrictions including early closing.  
In keeping with the pattern of previous weeks, comparatives on early days of the week were stronger than the weekend. Monday and Tuesday (5 and 6 July) saw drinks sales down 25% and 27% respectively, but Friday and Saturday (9 and 10 July) were down 38% and 36%. 
A breakdown of trading by category last week shows similar trends across beer (down 29%), wine (down 26%) and soft drinks (down 27%), with spirits (down 34%) and cider (down 38%) just behind.  
"COVID measures dealt a massive blow to drink-led operators and suppliers during the Euros, and drinks sales remain stubbornly below pre-COVID levels," says Jonathan Jones, CGA's managing director, UK and Ireland. "We must now hope that 'freedom day' on Monday encourages more consumers to drink out and allows more venues in the hard-hit bar and late-night sector to finally start their journeys to recovery." 
CGA's Drinks Recovery Tracker service measures drinks category, supplier and brand rate of sale performance versus pre-COVID-19 sales. Daily data is reported within three days. Suppliers and operators that want to track the recovery of drinks sales, benchmark performance against the competition or identify changes in trends and consumer preferences should contact, jonathan.jones@cgastrategy.com.