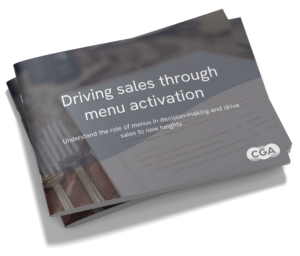 Driving sales through menu activation, 2021 draws on an exclusive survey of more than 1,000 drinkers to help suppliers and operators optimise sales through best-in-class menu activations. Failing to appreciate how guests engage with menus is a major business risk in the new-look On Premise—but here are five reasons why your business can benefit from this exclusive report to deepen your understanding and improve your planning.
1 Menus now influence guests more than anything else
Four in five (79%) consumers say drink menus are very important or quite important in their decisions about what to drink. That means menus are now the most influential factor in the On Premise, and makes it crucial to get them right.
2 COVID has changed the way they're used
A third (34%) of consumers now use menus more often than they did before the start of the pandemic—a significantly higher number than those who use them less (21%). This reflects a widespread shift away from bar ordering to table service since hospitality reopened after the first national lockdown in July 2020, which has made menus an even more important point of influence.
3 Demand for digital menus is growing
While physical menus remain the most popular option, COVID has accelerated the take-up of digital versions. Just over half of consumers say they anticipate using either app-based (25%), web-based (18%) or kiosk-based (10%) digital menus in the future—and young adults are particularly engaged with them. The Menu Report's extensive insights into what people want from digital menus can optimise strategy here.
4 Digital menu efficiency and accessibility need to be better
The Menu Report reveals that consumers like many aspects of digital menus—especially the freedom to browse and review orders—but a quarter (25%) say they sometimes don't work properly. Navigational difficulties and a lack of clear explanations or images can also be a turn-off, but businesses that ease these frustrations will get many more consumers on board.
5 Menu needs vary by category
More than four in five consumers drinking wine (85%) or cocktails (83%) say they check menus before ordering—notably higher proportions than those selecting spirits (67%), soft drinks (66%) and beer or cider (63%). This highlights the importance of approaching menu strategy on a category-by-category basis.
CGA's Driving sales through menu activation report provides suppliers and operators with the tactical support they need to understand the role of menus in decision-making and drive their sales to new heights. As well as revealing what consumers expect from menu content and layout, it provides deep dives into issues including the impact of menu engineering and how to overcome guest frustrations, plus detailed guidance for creating the best menus in various drinks categories.
The full Driving sales through menu activation report is available from CGA now. To lean more and discuss opportunities for further bespoke research for suppliers and operators, please contact CGA client director Paul Bolton at paul.bolton@cgastrategy.com