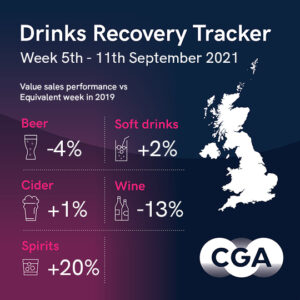 Average drinks sales by value in the seven days to last Saturday (11 September) were up by 1% on the same week in 2019, the latest Drinks Recovery Tracker from CGA shows. It follows a 5% increase in the previous seven days—though since that week was skewed by Bank Holiday weekend trading, this latest growth is perhaps the clearest indicator yet that the drinking-out market is approaching pre-COVID-19 patterns. Until September, drinks sales had been down on 2019 every week since mid-April.
Warm weather gave venues a major boost to footfall and spending last week—especially on Monday and Tuesday (5 to 7 September), when 2021-on-2019 sales were up by 22% on both days. Wednesday (up 18%) was strong too, but sales dipped in line with the temperatures on Thursday (down 10%), Friday (down 14%) and Saturday (down 3%).
Spirits sales continued to flourish, with sales up by 20% across the week. Soft drinks (up 2%) and cider (+1%) were just in growth, but beer (down 4%) and wine (down 13%) lagged behind.
It's well worth pausing to celebrate this week of year-on-year growth," says Jonathan Jones, CGA's managing director, UK and Ireland. "Consumer confidence is building by the day, and the renaissance in spirit sales after a very tough 18 months is particularly pleasing to see. Last week showed how daily sales remain volatile, and how closely they are tied to the weather at this time of year, so the On Premise is far from out of the woods yet—but this could prove to be an important turning point in the long journey back from COVID-19."
CGA's Drinks Recovery Tracker service will continue to monitor sales as the drinking-out market continues to recover, providing category, supplier and brand rate of sale performance versus pre-COVID-19 sales. Suppliers and operators that want to track the recovery of drinks sales, benchmark performance or identify changes in trends and consumer preferences should contact jonathan.jones@cgastrategy.com.