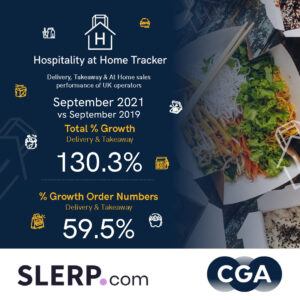 Britain's leading managed restaurant and pub groups more than doubled their delivery and takeaway sales from pre-pandemic levels in September, the latest edition of the CGA & Slerp Hospitality at Home Tracker shows.
Combined sales were 130% higher than in September 2019, when businesses were trading as normal; and 35% higher than in September 2020, when they were operating under COVID restrictions. Deliveries and takeaways were worth 29% of the total sales of all businesses contributing data to the Tracker.
September's growth in delivery sales was more than five times higher than takeaways, reflecting the popularity of third party delivery platforms. Drinks accounted for just under 10% of all sales.
CGA data suggests delivery and takeaway sales are not compromising consumers' spending on eating and drinking out. The September edition of the separate CGA Coffer Business Tracker, with a different cohort of contributing companies, indicates that managed restaurants, pubs and bars grew their sales by 8% on September 2019.
"Delivery and takeaway sales have dipped from the heights of lockdown, but September's figures show they will stay a crucial part of restaurant and pub operations," says Karl Chessell, CGA's business unit director – hospitality operators and food, EMEA. "It's particularly pleasing to see that at-home sales seem to be complementing rather than cannibalising eat-out spending, even as restaurants and pubs settle back towards normality. While the post-COVID balance of the two sectors won't be clear for a while yet, there's no reason why businesses can't thrive in both in the future."

Slerp founder JP Then says: "The businesses that are thriving with off-premise sales are keeping things interesting for their customers. They are offering unique menu items that are exclusive through their own online channels, which are often only available for a limited time. Slerp partners are having particular success driving up the basket size by creating bundles – and most importantly, the customers are loving it. As we move into the last quarter of the year, the festive online offering can be a significant revenue contributor whilst the landscape remains uncertain."
The CGA & Slerp Hospitality at Home Tracker is the leading source of data and insight for the delivery and takeaway market. It provides monthly reports on the value and volume of sales, with year-on-year comparisons and splits between food and drink revenue. It offers a benchmark by which brands can measure their performance, and participants receive detailed data in return for their contributions.
Partners on the Tracker are: Azzurri Group, BrewDog plc, Burger King UK, Byron, Cote Restaurants, Gaucho Grill, Giggling Squid, Honest Burgers, Nando's Restaurants, Pizza Express, Pizza Hut UK, Prezzo, Rosa's Thai, TGI Fridays UK, The Restaurant Group, Tortilla, Wagamama and YO! Sushi. Anyone interested in joining the Tracker should contact Karen Bantoft at karen.bantoft@cgastrategy.com.
About Slerp:
Slerp is the leading online ordering solution and digital growth platform for the hospitality industry. Built for operators by operators, Slerp empowers hospitality businesses to take ownership online, shaping the future of hospitality with digital innovation.
Trusted by renowned operators, from restaurants to hotels and bakeries, Slerp offers a tailored solution that lets businesses sell direct from their websites and social channels to everyone, everywhere.
With online ordering, order at table, loyalty apps and digital marketing services, Slerp has all the solutions to diversify revenue streams and future-proof growth online.
To learn more, visit www.slerp.com
About CGA:
CGA is the definitive On Premise measurement, insight and research consultancy that empowers the world's most successful food and drink brands. With more than 30 years' experience and best-in-class research, data and analytics, CGA is uniquely positioned to help On Premise businesses develop winning strategies for growth.
CGA works with food and beverage suppliers, consumer brand owners, wholesalers, government entities and pub, bar and restaurant retailers to protect and shape the future of the On Premise experience. Its mission is to use phenomenal data and expert insights to give brands a competitive edge and ensure the market we love is the most vibrant possible.