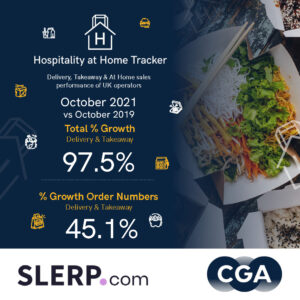 The exclusive Tracker, which measures sales at Britain's leading managed restaurant and pub groups, shows that combined sales by value for October were 98% higher than in October 2019, and 13% above October 2020, when businesses were operating under severe COVID-19 restrictions. The rate of 2021-on-2019 growth has steadily slowed from 206% in July to 176% in August to 130% in September.
The Tracker from CGA and Slerp shows the increase in delivery sales since 2019 has been seven times higher than takeaways—a result of consumers becoming more used to having food and drink delivered to their door rather than picking it up. Put together, deliveries and takeaways accounted for just over 27 pence in every pound of spending at managed groups in October 2021.
Growth in deliveries and takeaways continues to be much higher than in eating and drinking out. The October edition of the separate CGA Coffer Business Tracker, with a different cohort of contributing companies, indicates that managed restaurants, pubs and bars grew their sales by 3% on October 2019.
Karl Chessell, CGA's business unit director – hospitality operators and food, EMEA, says: "Deliveries and takeaways have boomed ever since lockdowns began in Spring 2020, but sales are now starting to settle into new patterns. However, with many people growing accustomed to the convenience of deliveries, and concerns about eating and drinking out lingering for others, these channels are going to remain central to trading. For all managed groups, balancing at-home and eat-in business, and growing both without compromising either, is going to be an operational priority as we move into 2022."
Slerp founder JP Then says: "Takeaway and delivery sales continue to out-perform pre-pandemic levels. As more diners return to the On Premise, we're seeing the importance of digitalisation of the entire restaurant experience with an increase in adoption of products such as order at table solutions as well as continuing demand for online ordering. Operators who harness the power of digital for both On and Off Premise dining are the operators seeing the biggest success."
The CGA & Slerp Hospitality at Home Tracker is the leading source of data and insight for the delivery and takeaway market. It provides monthly reports on the value and volume of sales, with year-on-year comparisons and splits between food and drink revenue. It offers a benchmark by which brands can measure their performance, and participants receive detailed data in return for their contributions.
Partners on the Tracker are: Azzurri Group, BrewDog, Burger King UK, Byron, Cote Restaurants, Gaucho Grill, Giggling Squid, Honest Burgers, Nando's Restaurants, Pizza Express, Pizza Hut UK, Prezzo, Rosa's Thai, TGI Fridays UK, The Restaurant Group, Tortilla, Wagamama and YO! Sushi. Anyone interested in joining the Tracker should contact Karen Bantoft at karen.bantoft@cgastrategy.com.
About Slerp:
Slerp is the leading online ordering solution and digital growth platform for the hospitality industry. Built for operators by operators, Slerp empowers hospitality businesses to take ownership online, shaping the future of hospitality with digital innovation.
Trusted by renowned operators, from restaurants to hotels and bakeries, Slerp offers a tailored solution that lets businesses sell direct from their websites and social channels to everyone, everywhere.
With online ordering, order at table, loyalty apps and digital marketing services, Slerp has all the solutions to diversify revenue streams and future-proof growth online.
To learn more, visit www.slerp.com