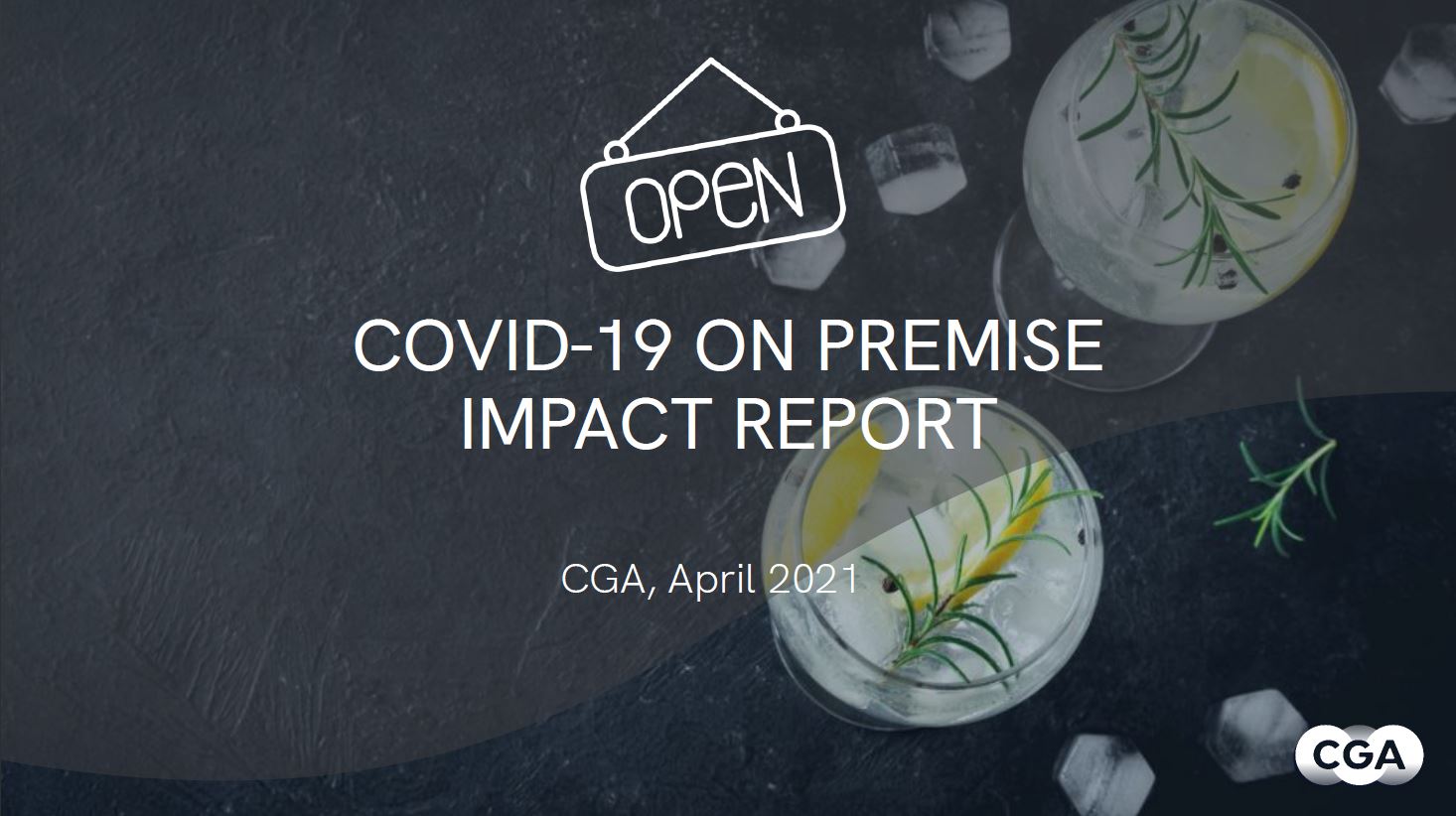 Over the past two weeks, there has been a steady rise in consumers across California, Texas, New York and Florida who have visited the On Premise for food-led occasions since bars and restaurants have reopened. Drink-led visits have stayed relatively consistent over the past several months.
Texas and Florida are driving higher rates of consumer visits returning to the channel, driven by venues that were able to open earlier with less COVID-19 restrictions in place, versus other states across the U.S.
RETURNING TO THE ON PREMISE
The latest research by CGA reveals that for over half of consumers who returned to visit hospitality it is due to the desire to eat food cooked and prepared by a restaurant, suggesting operators and suppliers should consider the range and offering available to consumers who are looking for treat experiences as restrictions ease.
Younger consumers are visiting to regain a sense of normality, support local businesses and to get out of the house, while the over 55's are increasingly returning following vaccination. Those under 55 are more likely to return to the On Premise for a drink than consumers aged over 55. Age however, isn't the main factor limiting consumer visits; state regulations are having a significant influence on consumers returning to the On Premise.
It is apparent from the research, that those who have not yet returned to the On Premise are generally worried about being around people in venues, rather than a change in habit, money worries or experience-based factors such as atmosphere or limits on table size. Venues should continue to effectively communicate their safety measures to entice consumers and keep visits rising over the coming weeks.
POSITIVE SIGNS FOR OPERATORS & SUPPLIERS  
72% of consumers are spending the same or more than pre-COVID-19 levels when visiting the On Premise, CGA's consumer research data confirms, showing positive signs for bars, restaurants and suppliers over the coming weeks. Alongside spending, outdoor seating is where consumers feel most comfortable, with 68% saying they are either completely comfortable or quite comfortable when visiting within these trading arrangements. This is 14 percentage points higher than those comfortable with indoor seating.
TECHNOLOGY: CONSUMER CONSIDERATION
7 in 10 consumers prefer the use of a physical menu and the latest report reveals a stark difference between the younger and older generation. While almost half of all consumers are comfortable ordering via a QR code/app/online menus, this is predominantly driven by those under 55, while 3 in 4 over 55's prefer looking at a physical menu.
Despite younger consumers being comfortable with apps/QR codes/online menus, they still want to order with staff members and are more likely to order an additional drink if asked, than through the app or online menu. In addition, around half of under 55 s would be put off ordering if they had to do it through an online menu.
Amy Warren, CGA Client Services Director said: "After a year of changing restrictions and mixed messaging for consumers, operators and suppliers alike, the rollout of the vaccination and easing restrictions for many is greatly welcomed. Younger consumers are returning with excitement, searching out that experience they have been missing, easing worries from the industry about the lasting impact on habits after such a long period of uncertainty. For the older generation, the vaccination is alleviating the concern and as it rolls out across the U.S. we expect to see further positive stories as consumers return to the bars and restaurants they have been missing."
For more information about the latest consumer COVID-19 Impact Report, contact CGA's Client Solutions Director, Matthew Crompton at Matthew.Crompton@cgastrategy.com
CGA continues to support suppliers through research and insight. Our latest research, Channel Strategy Study, reveals the opportunities for suppliers across all On Premise channels. Find out more at www.cgastrategy.com.