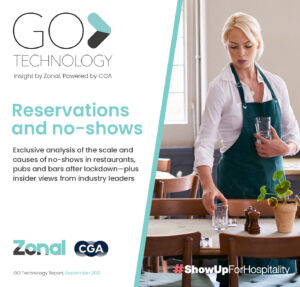 The Hospitality sector collectively loses £17.6bn a year due to no-shows; not only are parents less likely to turn up than those without children – but they are also the group least likely to recognise the damage not turning up has on pubs, bars and restaurants.
New data from hospitality technology expert Zonal and industry insight firm CGA shows that since reopening in April 2021, 15% of parents have failed to turn up for their booking without telling the venue in advance (compared to only 4% of non-parents). One-fifth (21%) say they are more likely to no-show than they were before the pandemic – much higher than those without children (6%).
The research has also revealed that fewer parents (35%) recognise and understand the impact of no-showing on a venue compared to non-parents (47%).
The top 10 reasons that parents do not show up for their bookings include:
I had a change of plans (20%)
Someone else in the group cancelled (19%)
The venue was unable to reassure me (18%)
I forgot about my booking (17%)
One of the group fell ill with COVID-19 related symptoms (16%)
I booked a few venues for the same time to be sure I would get in (15%)
The venue didn't contact me to remind me about my booking (15%)
The weather put me off (15%)
I decided it was too expensive (14%)
I decided against visiting because I was too nervous (14%)
This demographic is really important to the hospitality sector. Parents are more frequent visitors to the trade (37%) compared to non-parents (24%) and also spend more per month. With 17% of parents forgetting about their reservations and 15% saying they were not reminded; this highlights the importance of keeping in touch with customers who have made bookings.
A further 14% of parents agree that they would be less likely to no-show if they were contacted by the venue ahead of their booking. Hospitality may also want to consider how to make it easy and provide multiple options for busy parents to cancel their reservations as 45% of parents are more interested in using digital channels to help them cancel and amend bookings – vs 36% of non-parents.
The total impact of all no-shows to the sector equates to £17.6bn in lost sales, which comes after an extended period of enforced closures and onerous trading restrictions that have pushed many hospitality businesses to the brink.
In response, Zonal have joined forces with hospitality businesses and leaders across the industry to launch a nationwide campaign, #ShowUpForHospitality, aimed at encouraging people to always honour their bookings or inform the venue of cancellations and supporting business to find ways to reduce the risk of no-shows.
Olivia FitzGerald, Chief Sales and Marketing Officer, Zonal said: "While the industry welcomes the enthusiasm amongst consumers to get back to pubs, bars and restaurants, there is still more to be done in encouraging them to always honour their booking or tell the venue in advance. The knock-on effects caused by no-shows are considerable. Staffing and stock levels are left seriously compromised as well as lost revenue for a table that could've been taken up by other willing guests. All this comes with a significant cost to venues.
"We know that parents are valuable customers, so it's important that hospitality businesses react to these findings, get their communication right and put in place tools which enable them to amend or cancel bookings if needed and avoid the dreaded no-shows occurring as often as they do. The #ShowUpForHospitality campaign aims to highlight this impact and remind customers how important it is to support hospitality businesses as they begin to rebuild."
To download the full 'GO Technology' report, click here. For more information about the GO Technology series, contact info@zonal.co.uk or get in touch with Andrew.dean@cgastrategy.com.