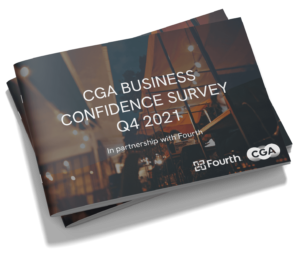 The figure was a modest drop of four percentage points on the previous survey in September—a sign of the pressures that have faced the sector ever since venues reopened earlier this year.
The exclusive poll of multi-site business leaders was conducted shortly before the new "Plan B" restrictions were announced, which are likely to hit consumer spending over the crucial festive season and pile additional operational pressures onto already stretched businesses. When the survey was conducted, nearly three in five (59%) leaders felt optimistic about prospects for the general market over the next 12 months, up by one percentage point on September.
The survey points to reasonable trading in the fourth quarter so far, with four in five (80%) businesses making a profit—up by 11 percentage points since the third quarter. However, a third (33%) are making a lower profit than they were before COVID-19, while 13% are only breaking even and 8% making a loss. Current consumer nervousness however, and reports of Christmas party cancellations even before the news of "Plan B", puts even this slow recovery in jeopardy.
There was a similarly mixed picture on growth plans. Just over two in five (42%) businesses planned to open new sites in the next 12 months, but just as many (43%) said they would not.
Karl Chessell, CGA's director – hospitality operators and food, EMEA, said: "These figures show that leaders were optimistic about the long-term future of hospitality, but the small movements between the third and fourth quarters suggest that trading had not got easier. The Omicron variant is denting confidence at the worst possible time and comes on top of a host of challenges around staffing, supply and rising costs. It is a reminder that hospitality is not out of the woods yet. Many businesses remain extremely vulnerable and will need sustained support from government in the months ahead."
Sebastien Sepierre, managing director – EMEA, Fourth, said: "While it's hugely welcome that sector confidence has been high over the last three months, reflected by a boost to trading and a return to profit, the emergence of the Omicron variant has clearly cast major doubt across the sector. With many businesses suffering supply chain and labour issues, the prospect of mass cancellations due to a consumer confidence hit is yet another challenge the industry can ill afford. It's absolutely vital that suitable support is re-introduced to protect businesses and livelihoods at what should be the busiest trading period of the year."
CGA's Business Confidence Survey is conducted in association with Fourth. For more information about the Business Confidence Survey, including bespoke analysis to help suppliers and operators optimise strategies for recovery email charlie.mitchell@cgastrategy.com.